'Fit to Fat to Fit': Personal trainers gain weight, then lose it with their clients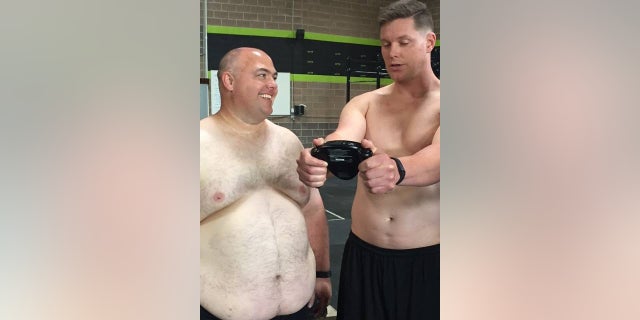 "Fit to Fat to Fit" is a new show following 10 personal trainers who gain a lot of weight in order to know what it feels like to have to lose the weight alongside their clients.
Trainer, JJ, healthy his whole life, originally weighed in at a fit 184 pounds, but after a 61-pound gain, began to understand first hand the weight issues that people actually face.
"It was an unreal experience. I had never dealt with weight issues before and honestly I had never dealt with what came along with weight issues, which was a bigger deal to me," JJ shared. "I knew my body was going to change as the weight came on, but I wasn't prepared to what it did to me mentally and emotionally. I cried most days, lots of tears, and anxiety attacks and severe depression. It was wild."
After gaining the 61 pounds, JJ embarked on the journey with a contestant named Ray to lose all of that weight and go back to his original number.
Ray weighed in at 389 pounds and lost a total of 147 pounds during his time on the show.
"My life has completely changed with this whole process," he told FOX411. "I had previously filled out applications for some other weight loss shows and I had failed a number of times on other programs."
Ray explained how important his relationship with JJ was to him from the first time they met.
"It's uncanny how deep our relationship was immediately," he revealed. "I opened the door in February and made eye contact with him and I suddenly knew this was for real. I went from so nervous to absolute calm."
And after their journey together, JJ revealed how much of an inspiration Ray has become to him throughout his life.
"I could not believe what he was accomplishing. What he did completely opened my eyes up to this whole new world," he said. "So now instead of being so judgmental I am definitely more understanding of those trying to get more healthy."
"Fit to Fat to Fit" premieres January 19th on A&E.