Films With Faith-Based Themes Big at Oscars in 2010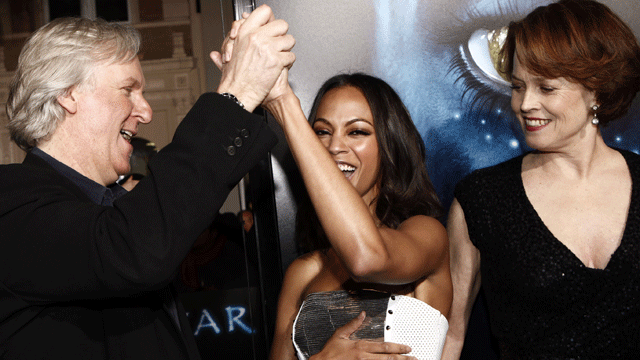 Faith-friendly films are redeeming Hollywood in more ways than one this year, as a batch of Oscar-nominated films focus on hope, faith and overcoming the odds.
Films like "The Blind Side" and "Precious "promote the value of life ... that there are no throwaway people. The animated children's film "Up" puts viewers in touch with the deepest of human emotions ... love, loss, grief and longing … in the context of a fun movie. And this year's special effects behemoth, "Avatar," takes audiences back to a virtual Garden of Eden, and presents the possibility of a glorified, resurrected body.
"Hollywood at its best calls us to heroic actions," says Dr. Craig Detweiler, director of the Center for Entertainment, Media and Culture at Pepperdine University. "It suggests that we can triumph over circumstances."
In these tumultuous times, Detweiler says, people are asking questions about the meaning of life ... and Hollywood has responded.
"You see in a film like 'A Serious Man,' a character who's experiencing Job-like suffering. He's not actually sure he's going to make it. The same thing happens in 'Up in the Air,' where George Clooney is an HR person traveling across the country firing people. So these films are rooted in real-life problems, real-life struggles, and Hollywood is tapping into the zeitgeist of anxiety."
But Hollywood is practical, and the proof is in the paycheck.
Movie Guide, a family-based entertainment watchdog group, rates movies for their redemptive, hope-filled content, themes it says have become increasingly popular over the last 25 years.
In 1985, it says, just 1 percent of films had "positive, faith-filled themes." By 2009, that number had leaped to 54 percent.
In 2009, Movie Guide says, films with no redemptive quality made an average $24 million dollars, while films with the most redemptive themes averaged $74 million.
While Hollywood may just be responding to the marketplace, the marketplace may be filling its own spiritual vacuum, says Dr. Rachel Wagner, assistant professor of philosophy and religion at Ithaca College in New York.
"The storyline as redemptive is a structure in film that we used to find in the Bible, when people actually went to church," she says.
Stories like David and Goliath, Noah's Ark and Jonah in the Whale were familiar stories to people who went to houses of worship. But today, with fewer churchgoers, fewer people know the biblical tales.
"So in a way," says Wagner, "we are just hungry for those stories."
"A Serious Man," she says, is a retelling of the Old Testament's story of Job, whom God allows to suffer unbearably at the hands of Satan.
The movie, Wagner says, is "very reflective of Judaism's search for meaning." It asks hard questions, like "If God is good, why does he allow pain and suffering?"
But Dr. Robert K. Johnston, professor of theology and culture at Fuller Theological Seminary, warns against using film as a surrogate for spiritual truths -- especially in a movie like "Avatar."
"Cinematically," Johnston says, director James Cameron has "redefined storytelling, and opened up the possibilities for other filmmakers."
But the film's power, he says, lies in its visual imagery, not its redemptive message.
"It seems to me that aspect is fairly shallow," Johnston says. "I don't think 'Avatar' will be remembered for radically opening up the human spirit. I think 'March of the Penguins' does a better job.
"You wonder at the power of the creator when you see those penguins in their struggles, and yet life continues against all odds."
Beating the odds is key to the redemptive story, and the film industry is thriving on it. God may have created that classic struggle, but Hollywood, some may argue, has perfected the presentation.