Fake Ryan Gosling accepts award for 'La La Land' at Goldene Kamera Awards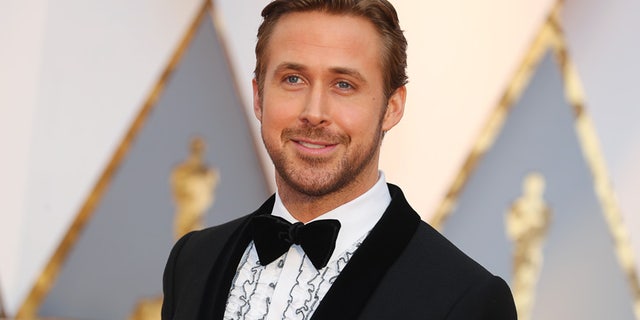 Talk about fake news.
Just weeks after the public Oscars mix-up surrounding the "Best Picture" award, a Ryan Gosling impersonator crashed the Goldene Kamera Awards in Germany to collect a prize for "La La Land."
News.com.au reported that the imposter is actually a cook from Munich named Ludwig Lehner, who was put up to do the televised prank by German comedians Joko Winterscheidt and Klaas Heufer-Umlauf.
2017 OSCARS A 'DISASTER' FOR HOLLYWOOD?
The two jokesters set up a fake agency, stating they could get the 36-year-old actor to appear at the event, provided he won an award. The show's host Steven Gaetjen, who was visibly excited by the special guest, introduced the alleged actor as "one of the hottest stars in Hollywood…the one and only, Ryan Gosling" to the stage.
Hollywood guests in the audience, including Jane Fonda, Nicole Kidman, and Colin Farrell, appeared visibly confused by the man, who said, "Good evening, I am Ryan Gosling," in a prominent German accent. "I dedicate this award to Joko and Klass, thank you very much. There is a saying in Hamburg, which is, 'bye bye!'" he said, before leaving the stage.
Gaetjen had to awkwardly announce there was a mistake. In response to the joke, organizers of the show, which honors the best in film and television, have reportedly ordered a complete revision of security procedures.
FOLLOW US ON FACEBOOK FOR MORE ENTERTAINMENT NEWS
In late February, presenters Warren Beatty and Faye Dunaway were given the wrong "Best Picture" envelope at the Oscars in Hollywood, resulting in the duo accidently announcing "La La La," the film starring Gosling, as the winner instead of "Moonlight." Accounting firm PriceWaterhouse Coopers, which was responsible for the error, quickly apologized after the ceremony.
"The presenters had mistakenly been given the wrong category envelope and, when discovered, was immediately corrected," they wrote in a statement. "We are currently investigating how this could have happened, and deeply regret that this occurred."