Experts Pick: Sexiest Actresses Who Have Posed Nude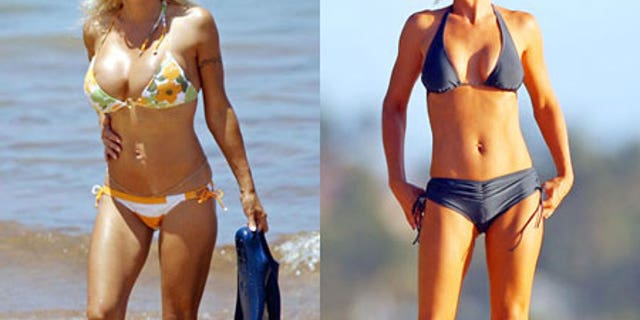 For any actress, the question of going nude is a career constant.
Be it frontal on the big screen or artfully topless for glossy magazines, some of today's top actresses have chosen the path of less — or no — clothing as they've sought success.
So who are the sexiest of the actresses who have let it all hang out?
To find out, RadarOnline.com turned to two experts, leading photographers Bradford Rogne and Helene DeLillo to rank 12 ofthe sexiest of female thespians to appear in the buff.
Rogne has shot beautiful women for magazines and leading companies, including Sony and Style network. DeLillo is a fashion photographer with years of experience photographing top beauties. These two experts combined their years of expertise behind the lens to choose who is sexiest in front of the camera from the group that has left nothing to the imagination!
Click here for bikini photos of the top twelve actresses who have appeared nude.
The expert's scores were averaged to find the top three sexiest actresses. Number one is a pleasant surprise—her amazing bod is rivaled only by her amazing talent.
And the Gold Medal winner is ... Applause for Charlize Theron!
This South African beauty's breakthrough role was coincidentally her first nude foray, in the steamy "2 Days In The Valley."
"She's the ultimate old school beauty with a modern edge," says DeLillo, "she is captivatingly different in every picture."
"With a face like that, she doesn't need rock hard abs," adds Rogne. But we'll take them anyway!
PHOTOS: Click here for pics of Charlize Theron.
Click here for photos of Hollywood's sexiest actresses who have refused to appear nude
And the Silver Medal goes to ... Jenny McCarthy!
From MTV, to Playboy to one of Oraph's christened gurus, McCarthy "looks amazing, even after having a child" according Rogne.
DeLillo thinks it was the right choice for her to pose nude, as she looks great from every angle and is "a favorite sexy funny girl."
PHOTOS: Click here for pics of Jenny McCarthy.
And the Bronze Medal goes to ... Pamela Anderson!
While acting certainly defined her later career, going au natural is something Anderson has always been successful in choosing.
"Though the size of breasts may frequently change, she remains a beauty," says Rogne.
DeLillo thinks she "transoformed the bikini stereotype from skinny to hottie lifeguard," adding serious proportions to the classic frame.
PHOTOS: Click here for pics of Pam Anderson.