Ex-Miss Universe Alicia Machado in public eye after she's mentioned during debate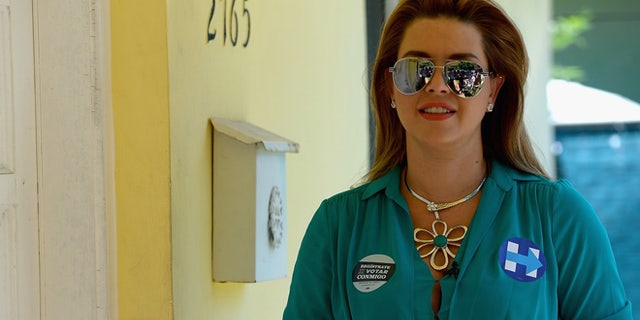 Former Miss Universe Alicia Machado became the center of attention during Monday night's presidential debate when Democratic nominee Hillary Clinton made reference to the beauty queen.
In one of Clinton's best zingers of the night, she brought up Machado's claim that rival Donald Trump called her "Miss Piggy" when she gained weight.
"One of the worst things he said was about a woman in a beauty contest – he loves beauty contests, supporting them and hanging around them – and he called this woman 'Miss Piggy,' then he called her 'Miss Housekeeping' because she was Latina," Clinton said.
After the debate, the Venezuelan-born Machado took to Twitter to send her thanks to the former Secretary of State, writing in Spanish: "Thanks Mrs. Hillary Clinton. Your respect for women and our differences makes you great. I'm with you."
Machado, who became a U.S. citizen last month, followed it up with a selfie of her holding her new U.S. passport, writing: "I received my passport! I'm ready to vote For my country for you @HillaryClinton for my daughter For women workers."
The Clinton campaign also released a video following the debate in which the former beauty queen spoke about Trump's alleged insults.
Machado was only 19 years old when she was crowned Miss Universe in 1996, the same year Trump purchased the international beauty pageant.
She gained 15 pounds after her win and appeared with Trump at a press conference where he said he supported her weight-loss efforts. She later blamed Trump for years of suffering from an eating disorder.
During the debate on Monday, Trump repeatedly challenged Clinton over where she heard the rumors. And when Clinton suggested that Machado would vote for her, Trump dismissed her say, "OK, good."
Trump later told "Fox and Friends" on Tuesday that Machado was "the worst we ever had."
Trump said, "She gained a massive amount of weight. It was a real problem. We had a real problem."
Machado appeared in June at a Virginia news conference hosted by two immigrant advocacy groups to encourage Latino voters to support Clinton.
In July, the former beauty queen lent her name in support of housekeepers. She attended a Domestics Workers Assembly in South Florida, an event organized to push for a bill of rights for domestic workers in the Florida state legislature.
The Associated Press contributed to this report.