Ellen DeGeneres fails to get key questions answered in Las Vegas guard interview
The Mandalay Bay security guard who was shot and wounded during the Las Vegas massacre returned to the national spotlight Wednesday for an interview with Ellen DeGeneres — but the talk show host failed to pin him down on the constantly changing timeline of the worst mass shooting in U.S. history.
Jesus Campos described being shot by gunman Stephen Paddock as Campos walked down the 32nd floor hallway after calling for a maintenance worker on the night of Oct. 1. But he didn't say what time that was, and DeGeneres didn't ask what time it was.
"At first, I took cover. I felt a burning sensation. I went to go lift my pant leg up, and I saw the blood," Campos said. "That's when I called it in on my radio that shots had been fired."
Paddock rained bullets on spectators at a country music festival on the Las Vegas Strip, killing 58 people and injuring more than 500 others.
Campos drew intense attention when police hailed him as a hero just after the shooting, saying he unwittingly stopped the massacre by arriving in the hallway.
The police timeline changed dramatically a week later, when authorities said Campos reported being wounded at 9:59 p.m. — six minutes before people in the concert crowd reported shots.
The timeline of the massacre changed again last Friday, when Clark County Sheriff Joe Lombardo said Campos had been dispatched to the 32nd floor at 9:59 p.m. and was wounded in the hallway less than a minute before the massacre started at 10:05 p.m.
Campos was scheduled to appear on Fox News' "Hannity" this past Thursday, but canceled at the last minute.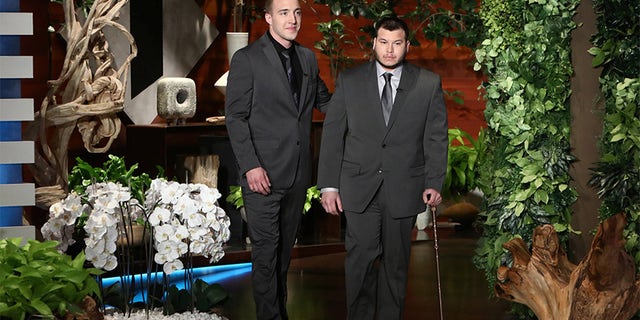 During the interview with DeGeneres, the host revealed that hers would be Campos' only interview about the shooting. Campos was accompanied by Mandalay Bay engineer Stephen Schuck, who was sent to check a fire exit door that Campos found bolted shut.
Schuck told DeGeneres that he didn't hear gunfire when he reached the opposite end of the 32nd floor hallway. Then, he said, he heard what he thought was the sound of construction.
"I didn't know it was shooting. I thought it was a jackhammer," Schuck said. "And, you know as an engineer, I'm like, 'We're not working up here this late at night.' We wouldn't be doing that."
Schuck appeared to support the most recent timeline given by authorities, telling DeGeneres that he thought the gunfire came from "outside."
"It wasn't in the hallway yet," the engineer added.
Schuck said Campos leaned out from a door entrance and yelled for him to take cover.
"Within milliseconds, if he didn't say that, I would have got hit," Schuck said, describing bullets whizzing past his head. DeGeneres credited Campos with also warning a woman who started to come out of her room to get back inside.
"Shortly after that is when Stephen was approaching, and I told him to stay back and get cover, and that's when more rounds were dispersed," Campos said.
Police later said more than 200 shots were fired into the hallway.
MGM Resorts International, which owns the Mandalay Bay, declined to comment on the appearance, as did police and the FBI.
The Associated Press contributed to this report.