Do Cheney and Rumsfeld get a fair shake in new documentaries?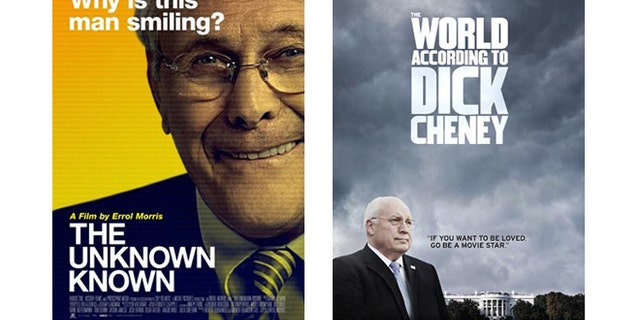 LOS ANGELES – President Obama is well into his second term, but key players from the former George W. Bush administration remain a hot topic for some of Hollywood's top filmmakers. Two of the most talked about documentaries on the film festival circuit this year have centered on the lives of former Vice President Dick Cheney and Secretary of Defense Donald Rumsfeld, with both politicians' participation.
The Venice Film Festival, Toronto Film Festival and Telluride Film Festival all screened "The Unknown Known: The Life and Times of Donald Rumsfeld," by Errol Morris, best known for his 2003 Academy Award-winning film "Fog of War."
"It was one of the most talked about aspects of the festival," one Toronto attendee said. "You walked away really understanding that Rumsfeld made decisions like Iraq with 100 percent conviction that it was the right thing to do, and reason to do so."
For Morris, the objective was to unravel "Who is Donald Rumsfeld?" and he says he chose not to interview others in order to give full focus to his subject. The reviews for the film have been mixed. Several critics claimed that Morris wasn't hard enough on his subject, while others disagreed.
"Morris points out several serious mistakes that Rumsfeld made, and Rumsfeld himself only in a few instances offers excuses," Stephen Marche wrote for Esquire.
And in January this year, Oscar-nominated director R.J. Cutler premiered "The World According to Dick Cheney" at the Robert Redford-helmed Sundance Film Festival, a film in which he insisted he wanted to give the "most powerful vice president in history" a fair chance to address his fans and foes.
"I thought it was a great opportunity to tell his story, whether you agree with him or not," Cutler told FOX411. "There haven't been many things written, or in film and television, that really put his voice at the center of the debate. That's what I wanted to do. Tell Dick Cheney's story with his voice, and it is a story of a remarkable career of over 40 years."
The Cheney-centered film went on to air on Showtime in March, and Morris's Rumsfeld doc is being distributed in the U.S. by Radius-The Weinstein Company.
Some media critics say it's a start for Hollywood to give prominent GOP figures the opportunity to tell their side of the story when it comes to critical subjects such as the developments after 9/11 and claims of weapons of mass destruction, rather than indulging audiences in pure propaganda pieces.
"Every film needs a star or at least a celebrity. There are very few people in the political realm who would qualify as being well enough known and having the 'aura' to carry an entire film. Cheney and Rumsfeld certainly qualify," filmmaker and media critic John Ziegler observed. "But very few people are ever even open to changing their minds about public figures once they have gotten a strong opinion on them."
He also questioned whether many of their liberal counterparts would be willing to step into the fray in such a way.
"For instance, Nancy Pelosi would never do what George W. Bush did in letting Pelosi's daughter follow him around during the 2000 election for her documentary," Ziegler said. "I wish Cheney and Rumsfeld would at least get some credit for taking that chance."
The National Journal reported earlier this year that Cheney was none too happy with Cutler's film and is said to have told friends "he's disappointed the producers showcased the internal politics surrounding Bush administration policies at the expense of the policies themselves."
Yet one only has to look at the somewhat unflattering picture of Rumsfeld on "The Unknown Known" poster to suspect that Hollywood agendas are still at least a little at play, added Dan Gainor, VP of Business & Culture at the Media Research Center.
"That Rumsfeld poster is intended to make fun of him and make him look the butt of the joke. If a picture is worth 1,000 words, that's 1,000 reasons why conservatives shouldn't bother being part of such lefty documentaries. While Cheney and Rumsfeld are involved, they don't dictate how their words are used," he said. "If conservatives want reputation rehab, they should give up counting on lefty documentaries to do it. There might be a mild positive tweak, but the left still hates them."