Disharmony rattles Fifth Harmony after Normani's apparent snub to Camila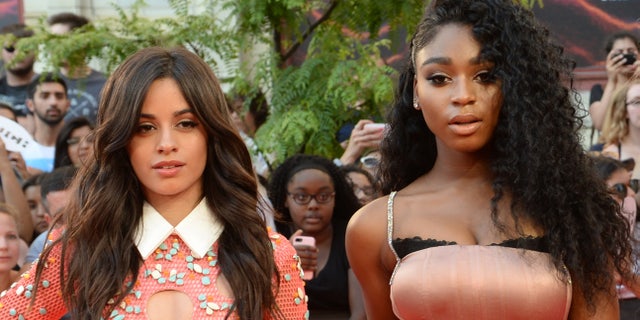 Not everything is in harmony between fans and singer Normani Kordei, who was forced to quit Twitter this week after an onslaught of cyberbullying following a presumed snub to Fifth Harmony mate Camila Cabello.
According to reports, fans of the girl group turned on the 20-year-old last week after she allegedly snubbed Cabello when asked to say something nice about each of her fellow members during a Facebook Live interview with Galore.
"She is… let's see. Camila. Very quirky. Yeah," she said hesitantly. "Very quirky. Cute."
The incident prompted a flurry of tweets from fans, who accused Kordei of throwing shade at Cabello. It got so severe that she posted a long note on Twitter to clarify the situation.
"It is a shame that after four years together as a group I have to address foolishness manufactured by those that have absolutely no idea what goes on," she began. "I have shown nothing but commitment for the success of Fifth Harmony even promoting on my days off but yet I always find myself as the target of unjust hate and slander. It's just not right. I give 110 percent on and off stage because I am true to myself and the artistry. We learn in life that evil spirits exist and people don't always treat you fairly but you continue to love anyway. I have love and respect for all four of my bandmates whether you choose to believe it or not."
The post only seemed to intensify the bullying and as a result, she announced Sunday that she is taking a step back from the social media platform.
"Over the past four years of being in the public eye I've learned to grow a thick skin to critics and those who may not like me," she wrote. "I've never been one to deny anyone of their opinions, but over the course of this last week and especially over the last 48 hours I've not just been cyber bullied, I've been racially cyberbullied with tweets and pictures so horrific and racially charged that I can't subject myself any longer to the hate."
She continued: "I'm not the first black female celebrity to deal with this and I'm sure I won't be the last. I want to take this moment to say Love goes much further than hate in this world. Hiding behind a computer and putting people down, especially for the color of their skin doesn't make you cool, it makes you a coward!"
As for Cabello, she jumped to Kordei's defense and tweeted her support.
"I stand by the words 'love only,' meaning I won't tolerate on my timeline any kind of hate, racism, or discrimination towards ANYONE. period," Cabello wrote. "You don't have to hate on somebody else to support me – I don't appreciate it and it's not what I'm about. Be kind or move on."
As of Tuesday, Kordei's Twitter account was still active, however, she has not shared anything since her last post.