Did 'Real Housewife' Danielle Staub Leak Her Own Sex Tape?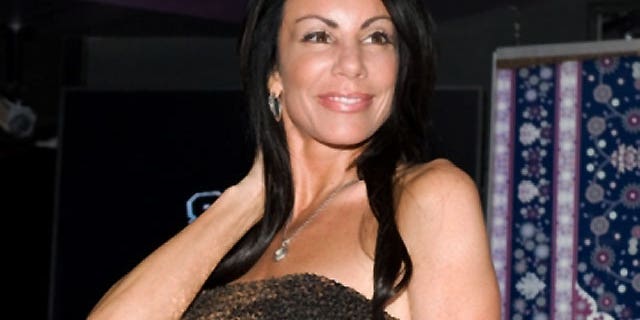 NEWYou can now listen to Fox News articles!
LOS ANGELES – Danielle Staub recently said her new sex tape, slated for release by Hustler, Inc, was stolen from her. But there is one fellow New Jersey "Housewife" that isn't buying Staub's innocent claims on the situation.
"Heard from a VERY reliable source that D released her OWN sex tape. Heard it's disgusting," Jacqueline Laurita Tweeted late on Tuesday. "Such disregard 4 her kids. I feel horrible 4 them"
Laurita's spin on the situation intensified on Wednesday when TMZ published a series of stills taken from the 75-minute video, and it appears as though she shot most of it herself. The pictures are credited to DanielleStaubRaw.com; however a proxy was used to register the domain – making it unclear whether Staub herself was the one to take action.
The tape is slated for release on Monday, June 14 – smack in the middle of the highly-rated Bravo show's second season.
Staub also said she won't fight the release of the tape, telling TMZ cameras, "if you can't beat 'em, join 'em." The mother of two also boasted that she could likely outsell fellow reality star Kendra Wilkinson's sex tape.
SLIDESHOW: The Lovely and Talented Danielle Staub
And this isn't the first time that Staub has been embroiled in a tape scandal. Last June the reality star, with her attorney Darren Del Sardo, was successful in blocking an ex-boyfriend from selling a tape of the twosome in a tryst. But this time round, there has been no mention of hiring an attorney or taking legal action against Hustler Inc. or the undisclosed individual who brokered the deal. In fact, a rep from Hustler told us that the tape (which co-stars a mystery man) was shot last September, several months after Staub joined the "Real Housewives" cast, and less than three months after she took legal action to have the first one banned.
So did the 47-year-old simply not learn her lesson, or does Laurita have a point?
A rep for Staub/Bravo declined to comment.
But according to booking agent Johnny Donovan, who has spent a lot of time with Staub and her cast mates, she would never have released such a tape on her own accord.
"Danielle is a really sweet girl. There is a lot of negativity towards her; people are always trying to make her look bad. None of the Housewives like her, period," Donovan told us. "I don't think Danielle leaked the tape, she's a single mom and she cares about her kids. She has so many things going on and she's been through a lot in her life, she doesn't need people saying these things about her."
Pop Tarts has also learned exclusively that Staub's second tape was also offered to Vivid Entertainment, who in the past distributed sex tapes starring the likes of Kim Kardashian and Pamela Anderson, but they were not interested.
"When we saw the Kendra Wilkinson footage for the first time, we knew immediately that with her looks and personality, our audience would love it. Over a period of several months we were offered two different Danielle Staub tapes by different third parties," Steven Hirsch, founder/co-chairman of Vivid Entertainment said. "But we didn't have the same 'feeling' about the Staub footage and so we decided to pass."
But even all this the sex tape controversy didn't stop Staub from taking to the stage on Tuesday night and showing off a few suggestive moves to celebrate the one-year-anniversary (under new management) of legendary gentleman's club, SCORES. We're told the reality star (who recently admitted she was once an exotic dancer) seemed in good spirits at the party, but stayed mum when it came to the topic of her racy new "role."
So with incidents like dancing in a strip club, coupled with a second sex tape lurking, one cannot help but question Staub's parenting skills and the impact this could have on her daughters Jillian, 12 and Christine, 16.
"The teen years are hard enough – dealing with peer pressure, the desire to fit in, and the need to begin to figure out who they are as individuals. This becomes complicated when your parent is taking part in behaviors that are not pro-social in nature," explained Marriage & Family Therapist, Sloane Veshinski. "While what Danielle is doing is perfectly legal, its effects on her children could include shame, embarrassment and humiliation, as no child wants to know that their parent allegedly made a sex tape for the purposes of sale and distribution."
And Los Angeles Psychotherapist, Danielle Jagoda, agreed.
"They (the daughters) could also feel some mixed emotions, and struggle with the fact that they both love their mom yet resent her at the same time," Jagoda added. "There can be much confusion when you allow both anger and love to coexist. It is very confusing when the reality doesn't align with what is expected from your mother, so it's a question of how do you make room for both emotions."