Dennis Rodman reportedly booed at Bruce Willis roast over Kim Jong Un joke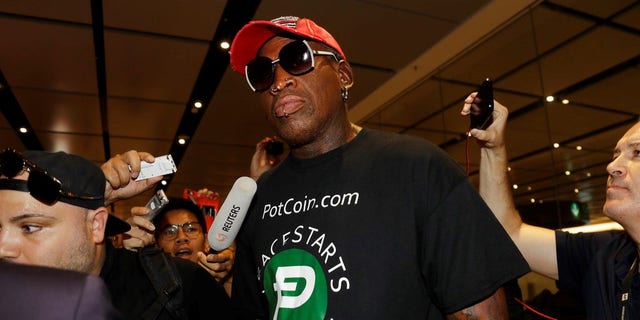 There were a lot of hilarious stars at "The Comedy Central Roast of Bruce Willis," but it seems Dennis Rodman wasn't one of them. The star was reportedly booed over jokes about Kim Jong Un at the big Hollywood event.
The former NBA player showed up to take some jabs at the "Die Hard" star, but after reportedly fumbling with most of his prepared material, he drew outright hate from the crowd when he brought up his friend, North Korea leader Kim Jong Un.
"You keep making these bomb movies like Kim, but at least he is smart enough not to release his," Rodman said, according to The Hollywood Reporter.
The joke did not go over well and reportedly elicited boos from the crowd.
Other comedians on the docket for the roast, hosted by "Looper" co-star Joseph Gordon-Levitt, included celebs like Edward Norton, Cybill Shepherd, Jeff Ross, Martha Stewart, Lil Rel Howery, Kevin Pollak, Nikki Glaser and Dom Irrera. Additionally, Deadline reports that Bruce's ex, Demi Moore, dropped by for a surprise visit to send a few jokes at him.
"I look at our marriage like 'The Sixth Sense,'" she said. "You were dead the whole time."
It's worth noting that, unlike some of the other people on the lineup, this was Rodman's first time delivering jokes in a roast-like setting. In the past, other first-timers have flopped on stage such as "The Jersey Shore" Star Mike "The Situation" Sorrentino at the 2011 roast of Donald Trump.
The roast of Willis is set to air on July 29 on Comedy Central.