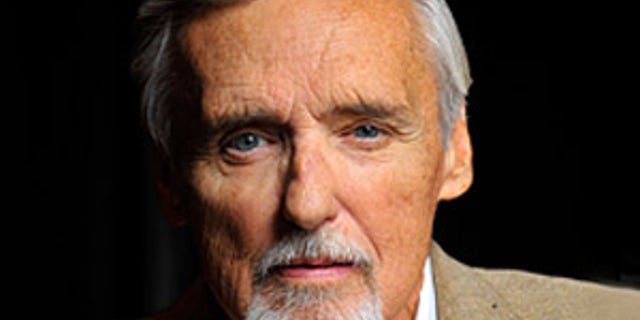 Dennis Hopper, the Easy Rider director best remembered for playing whacked-out characters during an acting career that spanned six decades, died after a long bout with prostate cancer. He was 74.

Hopper died Saturday morning, the office of his agent, Liz Dalling, told TVGuide.com. No immediate details were released.

See other celebrities who died this year

Critics and fans often said no one did crazy roles better than Hopper. For a long time, those roles reflected how he was living.

The Dodge City, Kan., native was a bit of prodigy, appearing in feature films such as Rebel Without a Cause, Giant and Gunfight at the O.K. Corral by the time he was 21.

After making Rebel and Giant together, James Dean and Hopper became fast friends. When Dean was killed in his Porsche in September 1955, Hopper was devastated.

Much of the work he did in the '60s was generally undistinguished — until he directed 1969's low-budget Easy Rider, in which he co-starred with Peter Fonda and a still upcoming Jack Nicholson. It was a huge success — both at the box office and as a talisman for the turbulent times, leading to other anti-war, anti-establishment films. The movie was nominated for the top honor at the Cannes Film Festival, (where it won "best first work") and Hopper received an Academy Award nomination for original screenplay.

Hopper's next directing effort, however, 1971's The Last Movie, bombed.

See photos of Dennis Hopper through the years

Hopper then went on a colossal bender that he subsequently wasn't shy about discussing.

In 2001, the actor/filmmaker/artist talked about being sober for 18 years — and not only from booze. He did various hallucinogens and narcotics. "I only used to do cocaine so I could sober up and drink more. My last five years of drinking was a nightmare. I was drinking a half-gallon of rum with a fifth of rum on the side, in case I ran out, 28 beers a day, and three grams of cocaine just to keep me moving around. And I thought I was doing fine because I wasn't crawling around drunk on the floor."

In the wake of that, he was quoted as saying: "I should have been dead 10 times over. I've thought about that a lot. I believe in miracles. It's an absolute miracle that I'm still around."

Before he kicked his habits, Hopper offered a memorable performance as a nutty photographer in Francis Ford Coppola's Apocalypse Now.

The 1980s saw a comeback by a clean and sober Hopper — culminating with David Lynch's Blue Velvet, in which he played an off-the-deep-end criminal. In 1986, he played a sad alcoholic in Hoosiers, offering a performance that brought him an Oscar nomination for supporting actor.
Dennis Hopper starts experimental treatment for prostate cancer
In his limited TV work, Hopper received an Emmy nomination for the 1991 HBO film Paris Trout, an adaptation of a Pete Dexter novel. More recently, he played a drug-addled music producer in the Starz premium channel's spinoff of the Oscar-winning movie Crash.

Hopper also made a name for himself as a photographer and artist, and his works were exhibited around the world.

Dennis Hopper's wife wants full custody of daughter

Married five times, he recently filed for divorce from his wife of nearly 14 years, Victoria, with whom he had a 7-year-old daughter, Galen. He had three grown children from his previous marriages. One of those marriages, to Michelle Phillips, lasted eight days.
Comment on this article at TVGuide.com >
Related Articles on TVGuide.com
Other Links From TVGuide.com