Demi Lovato: 'I was going to die young' because of addiction, eating disorder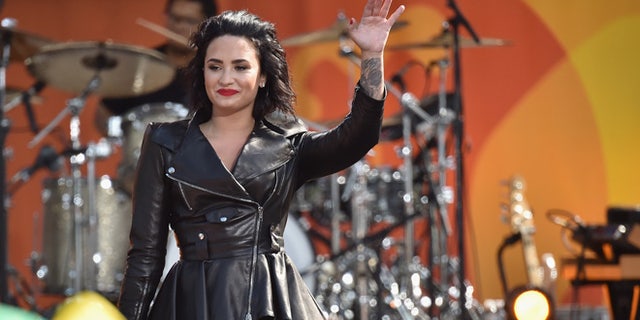 NEWYou can now listen to Fox News articles!
There was a time when Demi Lovato didn't think she was going to make it past the age of 21. She was drinking heavily, doing cocaine on a daily basis and barely eating.
In a new candid interview with American Airlines' inflight magazine "American Way", the now 23-year-old recalled her battles with drug and alcohol addiction, and an eating and bipolar disorder that forced her into rehab in 2010, at age 18.
"I lived fast and I was going to die young," said Lovato, who recalled self-medicating with alcohol, cocaine and OxyContin. "I didn't think I would make it to 21."
Lovato checked into rehab in 2010 for three months – after punching a backup dancer while on tour with the Jonas Brothers. She told "American Way" that she thought the world thought she was "just another stereotype."
"I thought, 'I'm not in treatment for a drug and alcohol problem,'" she added. "But once I started eating again, the other issues got worse. It was like whack-a-mole."
In early 2013, the former Disney Channel star checked into a sober house where she remained for a year. That December she shocked her fans when she revealed in an Access Hollywood interview that she sought further treatment for substance abuse because she "couldn't go without 30 minutes to an hour without cocaine."
She revealed that she would sneak it on to airplanes because it got so bad.
The "Confident" singer has since remained sober – admitting that her last drink was in January 2012 and continues to attend Alcoholics Anonymous meetings. This past March, Lovato celebrated her fourth year of sobriety.
Nowadays, Lovato uses her fame to raise awareness to overcoming addictions and body image acceptance. She said she is always moved by fans who say she inspired them throughout the years.
"When I have meet-and-greets, I can't tell you the amount of times that girls will show me their arms covered in scars or cuts," Lovato told the magazine. "They'll tell me, 'You helped me get through this. Because of you, I stopped self-harming,' or 'I got sober.' Hearing those things gave my life new meaning."
She added: "At times I was resentful for having that kind of responsibility. But now, it's really become a part of my life. It holds me accountable."