Demi Lovato becomes co-owner of center that helped her get sober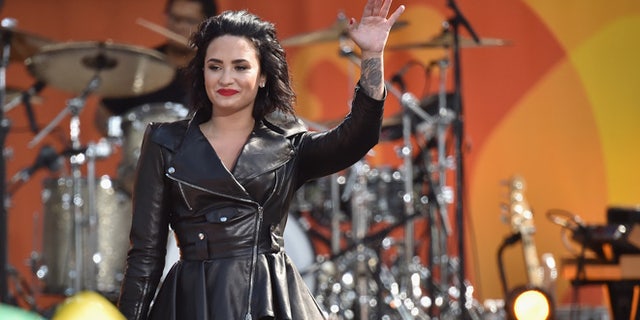 NEWYou can now listen to Fox News articles!
Demi Lovato wants to make sure that the center that helped her on the road to sobriety is getting the attention and support it deserves.
The singer revealed in an interview with CBS "Sunday Morning" that she has become the co-owner of CAST Centers, the Los Angeles mental health and wellness treatment center where she was a patient in 2013.
"I don't know what it says, it just feels good," she told Tracy Smith of CBS.
Lovato has been very vocal about her struggles with substance abuse and other mental health issues; however, she admits that she wasn't always the nicest of patients during her treatment.
"I was a nightmare," she said about early in her time at CAST. "I would say ... the word that I want to say, but it's so inappropriate that I can't. And this will be on a Sunday morning, so I'm not going to say it!"
Mike Bayer, the CEO of CAST, told CBS that when he first met the former Disney star, she was "very closed off" and slept a lot.
"(She) didn't care about anything," he added.
Lovato recalled, "(Bayer said) 'Hand over your phone, hand over your car keys, your driver's license, your credit cards.' And I had a curfew. I had somebody sleeping in the same room with me because I was so manipulative and sneaky that I could make anything happen wherever it needed to happen. So I had to give up all of that freedom in order for it to work."
But she stuck it out and emerged stronger than ever. She has since pushed to highlight the struggles of people living with mental illness – herself included – and even spoke at the Democratic National Convention this summer.
"At a young age, I realized that, if I'm going to become a singer, I need to use my voice for more than just singing," she told CBS.
"It sounds ridiculous, but I kind of made a pact with God," Lovato added. "I promised, 'If you make me a singer one day, I'm going to use my voice for so much more than singing, and I'm going to help people with it.'"
To make sure she stays on track while on her co-headlining a tour with Nick Jonas, Lovato brought Bayer on the road with her. They are also doing intimate expert-led seminars open to the public during tour stops.
"In working with Demi, we are able to create widespread awareness and inspire a new generation to think about mental health in the same way as physical health," Bayer told People magazine. "By the time CAST Centers on Tour ends on Sept. 17, we will have gotten in front of 12,000 young people to spread this message of self-empowerment, and that's just the beginning. I'm excited about what lies ahead."