Delusional or Dedicated: Bikini Girl Sets Sights on Movie Career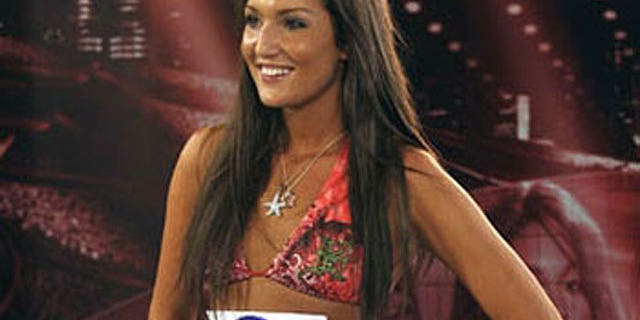 LOS ANGELES – Remember the hot girl who flaunted herself into the televised portion of "American Idol" last year (and even scored a solo spot in the finale) by turning up to audition in a bikini? We all know her as bikini girl, but her real name is actually Katrina Darrell and yes, she's really going places.
Or so she says.
"I've been making a lot of appearances and doing a lot of traveling since 'Idol,' I do a lot of club appearances. They fly me out and I party, sometimes I wear a bikini or sing," Darrell recently told Tarts. "But now I'm getting back to recording and most people don't know I've been acting my whole life."
Darrell seems to have changed her tune and is suddenly set on being an actress – but she isn't exactly starting at the bottom.
"I've just got a new agent and I want to move into motion pictures," she declared.
And while Ms Darrell isn't tired of the 'bikini girl' tag just yet, (apparently it is better than being called like, "clown girl or something") she said flashing the flesh wasn't a calculated plan to get her initial fifteen minutes.
"I was visiting my grandparents in Arizona and my mom told me I had to audition and I was like, 'I don't know.' Finally I did, it was so hot like 110 and sweaty outside so I thought I would just wear my bikini," she said.
At the 'Idol' finale earlier this year the 21-year-old was upstaged amid her performance by judge and frienemy Kara Dioguardi – and she hasn't forgotten the embarrassment.
"I had no idea it was going to happen, it wasn't nice," she added.