David Hasselhoff says he's a "serious actor" able to laugh at himself (all the way to the bank)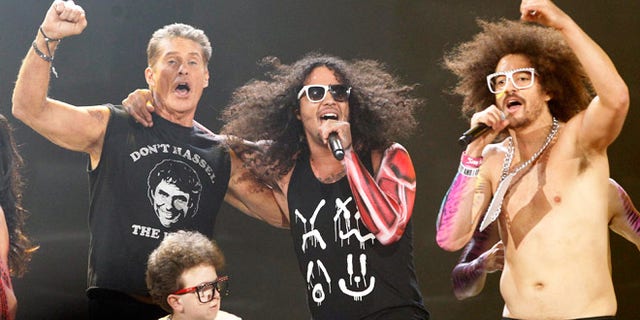 LOS ANGELES – David Hasselhoff may be better known across the world as "The Hoff," but he wants you to know that while he has a good sense of humor, underneath it all he really is a "serious actor."
"I play off what people think. 'The Hoff' I can't get rid of it, so instead of asking people to call me David Hasselhoff because I want to be serious actor, I go with it. But I am a serious actor," the former "Baywatch" star told FOX411's Pop Tarts column. "I've done serious work and I have done huge television shows, I've done 'America's Got Talent' and I was on a soap opera for six years. I am singing around the world, and I am dating a nice girl from Wales, so I am a happy guy."
But six years ago, it was a different story. The prominent entertainment personality said that divorcing his wife of 17 years, Pamela Bach, was the lowest of low points in his life. Yes, apparently even lower than in 2007 when his daughter posted a now infamous YouTube video of him in an intoxicated state on the floor of a Vegas hotel room, attempting to eat a cheeseburger.
[pullquote]
"Getting a divorce was horrible. It took me 16 years to finally do it, but anyone will tell you it is not a good thing," he said. "It's a very unhappy moment because you feel like a failure not for me, but for my kids. As long as the kids love me, I am in a safe place."
And while much mocking has been made in the press about "The Hoff" and his escapades throughout his long career, the 59-year-old is anything but bitter or resentful.
"You've got to laugh about what people write about you. You have to be aware that when people take advantage of you when they print something, it is not because they want to hurt your feelings, they are making money. But you also have to laugh at your mistakes," Hasselhoff said. "The key to life is appreciating what you have, that is the difference between my generation and this generation. This generation, we don't appreciate what we have and always want more. I may not be a big movie star who gets to be James Bond, but who cares. I am happy. I'll leave it in God's hands."
And it seems just being "The Hoff" gives him permission to laugh all the way to the bank.
"I am doing a lot of online and social media; the obvious is that everything is going to the Internet now. We're doing 'Tales of the Hoff,' a new series. I'm also coming out with a thing called 15MinutesNow.com; it is an online 'Hoff Knows Talent' type contest like 'America's Got Talent.' You can send in videos of yourself singing in the shower and compete for a huge prize at the end," Hasselhoff laughed. "I am doing lots of commercials in Germany and Norway, so lots of people are calling me. Nestle, which is a worldwide company, asked if I would do 'Mr. Lean.' They said he's a metrosexual who is over-the-top with blonde hair, and I knew I would love this guy."
Hoff fans apparently love his Mr. Lean alter-ego -- David Hasselhoff's German cousin -- too, with the vignette series already racking up millions of hits on YouTube since its launch earlier this month.
Danielle Jones-Wesley contributed to this report.