Dark and Sober Themes Dominate Golden Globes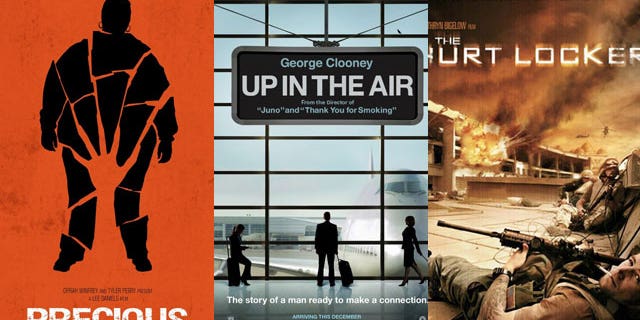 LOS ANGELES – A loose and cheeky tone is typical for the Golden Globes. Yet Hollywood's first major prize show on the road to the Academy Awards has plenty of heavy drama for the hard times we live in.
Three films with war-on-terror angles scored nominations, led by critical darling "The Hurt Locker," which is among best dramatic picture contenders.
Also competing Sunday for that honor is the tough Harlem drama "Precious: Based on the Novel `Push' By Sapphire" and the recession-era tale "Up in the Air," while roles that nabbed acting nominations include a serial killer (Stanley Tucci in "The Lovely Bones"), a Nazi Jew hunter (Christoph Waltz in "Inglourious Basterds") and a suicidal academic (Colin Firth in "A Single Man").
The lineup for best dramatic actress features newcomers Gabourey Sidibe as an illiterate, abused teen in "Precious" and Carey Mulligan as a teen who jeopardizes her future through an affair with an older man in "An Education." Mo'Nique is the supporting-actress favorite as a vile welfare mother in "Precious."
Sure, there is plenty of cheerier fare such as "The Hangover" and "Julie & Julia" to lighten things up, along with nominations for big action crowd-pleasers such as "Avatar" and "Sherlock Holmes."
And for the first time in more than a decade, there will be a master of ceremonies on hand. Ricky Gervais, star of "Extras" and the original British version of "The Office," was picked as host of the Globes.
Gervais has promised some "gentle ribbing," principally aimed at "anyone younger and thinner and richer and more attractive than me."
"I can't wait to see Ricky Gervais do his thing. He was such a great choice to host that show. It's a rough crowd, everyone's at big tables talking to each other the whole night and drinking. It's pretty raucous," said Neil Patrick Harris, a Globe nominee for television supporting actor for "How I Met Your Mother." "I think they chose the perfect guy to host it. He'll be masterful in his lion tamer's skills."
Along with "Avatar," "The Hurt Locker," "Precious" and "Up in the Air," the World War II tale "Inglourious Basterds" is up for best drama.
Two Meryl Streep flicks, the Julia Child plum "Julie & Julia" and the romance "It's Complicated," are nominated for best musical or comedy. Also in the running are the romance "(500) Days of Summer," the morning-after romp "The Hangover" and the musical "Nine."
Presented by the Hollywood Foreign Press Association, a relatively small group of about 85 entertainment reporters for overseas outlets, the Globes have a history of spotlighting edgy picks that might go overlooked at other awards shows.
"They've made some cool and irreverent choices in the past, and I think `The Hangover' is definitely up there with those," director Todd Phillips said of his comedy smash about a Vegas bachelor bash gone awry.
Among the contenders are three double nominees: Streep for "Julie & Julia" and "It's Complicated";" Sandra Bullock for the football drama "The Blind Side" and the romance "The Proposal"; and Matt Damon for the whistle-blower tale "The Informant!" and the South African rugby drama "Invictus."
Other A-list nominees include George Clooney for "Up in the Air," Morgan Freeman for "Invictus," Julia Roberts for the corporate spy game "Duplicity" and Robert Downey Jr. for "Sherlock Holmes."
"Up in the Air" leads with six nominations, including two of the five supporting-actress slots for Vera Farmiga and Anna Kendrick.
Though critics generally considered "Up in the Air" a comedy laced with serious moments, Globe voters put it in their drama category, a testament to the story's timely themes of economic strife and corporate downsizing. Clooney plays a man traveling the country in style as he fires people for other companies too timid to do the deed themselves.
"I like to think of it as a drama that's funny, I guess," Kendrick said. "That's tricky, because it is so funny and it's so emotional. I think of it both ways, but if it had to be in one category, I'm happy that it's in drama. I think there's enough."
Winners could get a last-minute boost for the Oscars, whose nomination balloting closes six days after the Globes are presented. Oscar nominees will be announced Feb. 2, with the awards ceremony following on March 7.
For now, awards contenders are just looking forward to the Globe party, where stars kick back over dinner and drinks rather than a stately pageant such as the Oscars.
At least a couple of nominees were considering alternatives to the usual black-tie attire.
"We're waxing up our lederhosen," wisecracked Chris Miller, who co-directed "Cloudy With a Chance of Meatballs," a nominee for best animated film.
"We hear that's what you wear," quipped his co-director, Phil Lord. "Because it's foreign press, right? So you wear, you dress as your favorite nationality."