Danica Patrick reveals 'secret' country music album at 2013 American Country Awards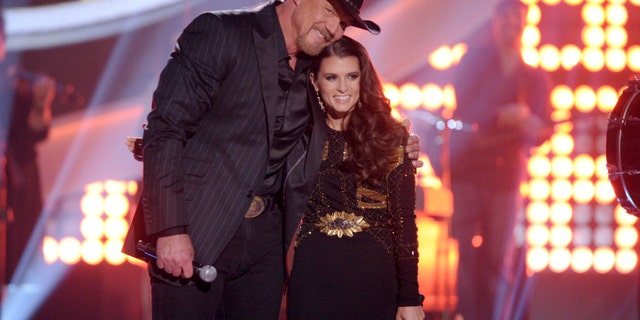 NEWYou can now listen to Fox News articles!
Country music's biggest stars cleaned up the Sin City with some down-home entertainment at last night's 4th annual American Country Awards (ACA) at the Mandalay Bay Resort and Casino in Las Vegas, Nevada.
Country crooner Luke Bryan and the "Cruise" singing duo Florida Georgia Line unsurprisingly walked away the most wins at the fan-voted awards show hosted by singer Trace Adkins and NASCAR driver Danica Patrick.
Adkins jokingly asked his co-host why she was qualified to host a country music awards show to which Patrick responded she had once been in a Miranda Lambert music video.
She also revealed fake cover art for her "never-before-seen" country album called "Checkered Past." The show quickly refocused on the night's real country singers like Lady Antebellum who opened with their hit "Compass."
While Florida Georgia Line walked away with a steep six awards, it was Luke Bryan who took home something a little extra: He was named male artist of the year.
"Thank you Brad [Paisley], we almost kissed, I'm sorry Brad," Bryan told Paisley who he had jokingly exchanged a faux smooch with after kissing wife Caroline before accepting the award.
Thank you [fans] for voting and for making amazing nights like this happen to me," Bryan told his fans. "I love you. It's been the most amazing year of my life."
Bryan currently holds the most ACA titles of any other country artist at an impressive 12 awards. But the night focused on celebrating new and breakthrough artists like Bryan's former openers Florida Georgia Line who performed their latest single "Stay."
"It's been an amazing year," one half of Florida Georgia Line Brian Kelley told the audience. "Thank you for letting us be a part of something this special."
Other artists such as "Point at You" singer Justin Moore and Randy Houser who are usually underrepresented at other country award shows were invited to perform and they showed those who tuned in that they too know "How Country Feels."
The show also honored country music veteran Brad Paisley with the Video Visionary award for making the most "audience accessible music videos in country music history."
"Thanks to my fans for having an open mind and being so ready to have fun with me," Paisley said after Dwight Yoakam presented him with the award.
Also receiving a special honor at the show was Taylor Swift for the first ever worldwide touring award which she accepted from presenter Olivia Newton John remotely as the "Red" singer was on tour in Australia.
Next up was a Vegas dancer-clad Patrick who performed a quick dance before assuring the audience that there would be no wardrobe malfunction in her flashy outfit as she said "there's not much to malfunction." Shortly after, her co-host also donned a sequined bikini and feathered headdress drawing laughs from the audience.
Other big winners included Blake Shelton who scored four awards and wife Miranda Lambert took home female singer of the year although neither attended the show due to scheduling conflicts.
American Idol winner Scotty McCreery was voted breakthrough artist and group of the year went to Lady Antebellum.
Kellie Pickler performed, Jake Owen sang his new single "Days of Gold" with ZZ Top guitarist Billy Gibbons but the most exciting collaboration was Darius Rucker and Sheryl Crow's medley performance.
Rucker began with his current single "Radio" and Crow joined in with her "Callin' Me When I'm Lonely." The two joined forces on Rucker's "Wagon Wheel."
Bryan took the stage again to introduce LeAnn Rimes who performed a Patsy Cline tribute. He closed the show with his acceptance of the ACA's highest award of artist of the year before a final performance from host Adkins.
"Thank you all so much for this, it's amazing to be called artist of the year," Bryan said. "We love the opportunity to play for the most honest, hard-working people in the world: good country music fans, good Americans. I want to thank everybody in this room, all the fans for being such a wonderful part of my life."