'Dancing With The Stars' recap: And the mirror ball trophy goes to ...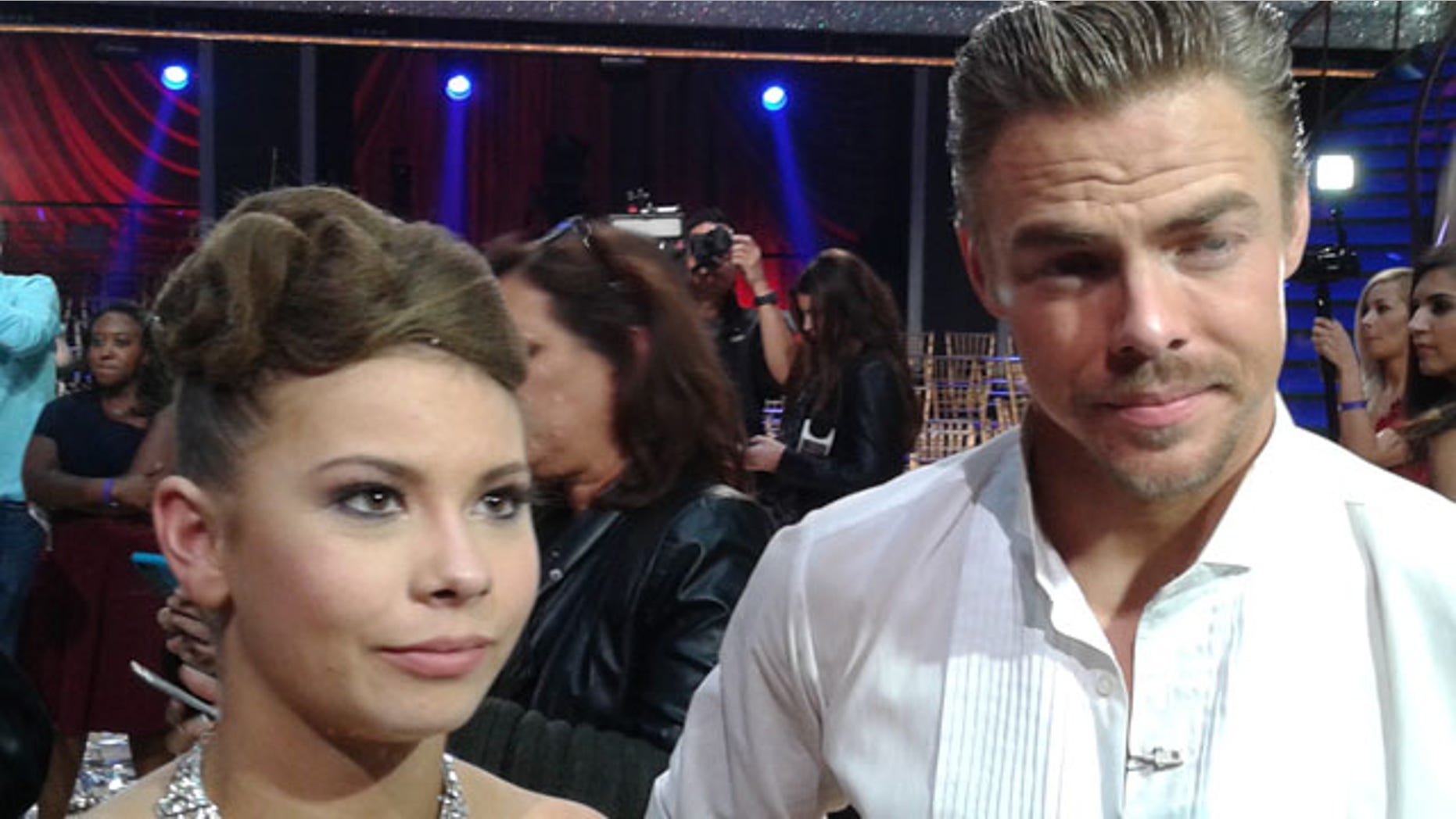 LOS ANGELES – Bindi Irwin stole hearts all through Season 21 of "Dancing with the Stars," so it was no surprise when the Crocodile Kid snapped up the mirror ball trophy on Tuesday night.
The "DWTS" darling, 17, and partner Derek Hough performed one more perfect-scoring dance on the grand finale before hearing the news that they'd bested Backstreet Boy Nick Carter and his partner Sharna Burgess, who finished second.
Train hero Alek Skarlatos and his partner Lindsay Arnold came in third place.
FOX411 was there to share the joy backstage as Irwin, who got emotional all season about her late dad Steve, reflected on her "DWTS" journey.
But first, "I think I'm just going to go and get into the car and I'm going to scream for about twenty minutes with excitement!" Bindi told FOX411.
With her win sinking in, Bindi said, "I feel like I've changed in so many ways. I never knew I'd learn so much about rhinestones and glitter and high heels. But honestly, the most special part of this experience is really to be able to grow and touch on parts of my life that I never thought I'd fully go to and to be able to share my journey and my story with so many others."
Bindi, whose little brother Robert cheered her on every week, added of Hough that she'd gained "another brother."
"DWTS" golden boy Hough took home his jaw-dropping sixth mirror ball trophy and told reporters, "It's unbelievable. The thing is, this show has evolved so much. This show is a completely different show from what it was the first time I won and to win at this level, the standard [that] the show is raised to, it's been incredible and more importantly, with Bindi. She's just a champion of life."
Acclaimed dancer/choreographer Hough admitted it was a dream season, noting, "There's not a step I would change. That was a very calming peaceful feeling."
Bindi told FOX411 of her future plans, "Next is going home, back to Australia to be with all of the animals and continue on with all of our conservation work and carry on in my dad's footsteps."
Bindi works tirelessly for Wildlife Warriors, which was started in 2002 by her father and mother and helps to rescue and rehabilitate animals all over the world, from elephants in Cambodia to tigers in Sumatra.
"There's so much left to be done," Bindi said.
Bindi will soon travel to Australia with Hough and teach him how to "feed crocodiles and cuddle tigers and kiss koalas!"
She plans to celebrate Thanksgiving with family and friends, including wakeboarder boyfriend Chandler Powell.

Meanwhile, second place finisher Carter is looking forward to having a baby boy this spring with his wife Lauren. The couple announced they were expecting and learned the sex of their baby live on "DWTS."
Carter told reporters Tuesday night, "I'm excited. I'm taking a couple of months off, well-needed, to spend with my wife and really cater to her in this time and then in April, take a little time off there as well when the baby comes."
With Thanksgiving looming, Carter said, "I'm thankful for the cast, the pros, the production because with that hard work and everything we had to do, it opened my heart again and gave me some confidence. It brought back a Nick Carter that kind of was hidden for a little while."
Carter wasn't disappointed in losing to Bindi, saying, "She deserved it."
Viewers learned on Tuesday night's show that third place finisher Skarlatos would be joining the upcoming "DWTS" tour.
He told reporters after the show, "They asked me and I was really surprised. I decided to do it because I made so many friends and I just want to keep it going.
"It's been a crazy journey ... life can change in a heartbeat."
Skarlatos, who helped disarm an alleged terrorist on a Paris-bound train this summer, said, "I never thought this [show] would happen, I never thought I'd be alive, frankly, so everything is gravy. I can't have a bad day."
He also has other plans beyond the "DWTS" tour: "We might be working on a book."
The hit ABC reality show returns next March for season 22, with (as viewers learned Tuesday), Len Goodman returning as one of the judges.
But Bindi will be hard to top!