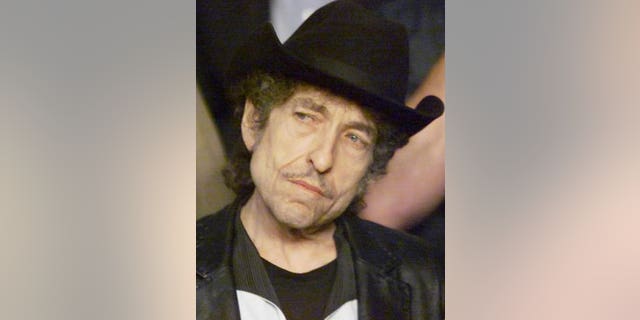 Merry Christmas!
Faced with a lingering recession and high unemployment, retailers are already forgetting about Halloween and moving straight to the holiday season. Seems that people don't buy as many costumes when they're broke, so stores are hoping that shoppers will want to dig into their empty pockets to put some Christmas gifts on layaway. Seeing Christmas junk in stores early gives us all more time to save. Get it? Those retailers think of everything. Now, if they could only figure out a way to get us some jobs.
Most folks don't need layaway to buy Christmas music, and Bob Dylan is first out of the gate this year with his recessionary holiday offering. This week, he released "Christmas in the Heart," 15 songs of holiday croaking cheer. Proving that he's really in the X-mas spirit, Dylan is donating all of his royalties to Feeding America, a nonprofit agency committed to feeding Americans facing hunger (more than 25 million people are unable to afford food on regular basis).
If the thought of Bob Dylan singing "Here Comes Santa Claus" and "O Come All Ye Faithful" puts you in the holiday spirit, this album is for you. However, if you have nightmares of Dylan carolers coming to your door, blowing harmonicas and grunting "The First Noel," be forewarned. This album is like an old-time radio show hosted by Grandpa Munster. It's frightening and fascinating.
Recording a Christmas record is an obvious choice for an artist looking to get some stocking stuffer cash — and wait out a case of writer's block. It's also the perfect gift to a loyal fan base willing to shell out $10.99 for anything sung by their idol. Every year, we use the same Christmas lights, the same ornaments, the same plastic wreath. Yet, one copy of "The Little Drummer Boy" is not enough. We buy remake after remake. We have Nat "King" Cole's version, David Bowie's version, and now Bob Dylan's. Redundancy is the hallmark of Christmas music.
Now, I'd like to play the part of musical Scrooge by reminding you of some of the most misguided Christmas albums in recent memory. Play them to scare the kids when they come trick-or-treating at your door this Halloween. Oh, I forgot, no one's trick-or-treating because they're too busy saving for Christmas. Ho, ho, ho. Boo!
Related gallery: See rock stars in costume through the years.
Sting: "If on a Winter's Night"
Sting's album is right behind Dylan's on the Christmas music sleigh. It's due in stores October 27. But don't call it a Christmas record. It's "winter music," with lots of medieval ruminations about the snow and cold. Sting even grew a fat Kris Kringle beard to get in the mood. It's full of all the pompousness and self-righteousness you've come to expect of Sting, combined with the complete absence of cheer. Cheers!
Aimee Mann: "One More Drifter in the Snow"
Aimee Mann has made a career of being tasteful — and melancholy. Her 2006 holiday album, "One More Drifter in the Snow," has melancholy in spades. It's one long Christmas dirge that will make you want to cancel the holiday party and plan your funeral. Ironically, Mann has a wickedly sly sense of humor that she saves for her live shows and DIY Christmas trilogy videos. Watch them and have a good laugh before her album brings you down.
Mariah Carey: "Merry Christmas"
In 1994, Mariah Carey released her "Merry Christmas" album, which quickly went to #3 on the charts and sold more than 5 million copies. It's full of faux-Phil Spector Wall of Sound production and the vocal gymnastics that Mariah does so well. But it lacks one key ingredient: soul. Carey's album feels as plastic as the fake Christmas tree in my grandmother's house.
"A Disney Channel Holiday"
In 2007, the Disney brats gathered under the tree to destroy a bunch of perfectly enjoyable Christmas songs. It's all the cookie-cutter, prefabricated music you've come to love... to escape.
Michael Bolton: "This Is the Time"
Bolton's '96 Christmas album is a study in bad hair. It's also proof that even the best songs can be ruined if a singer tries hard enough, although I do have to give props to Bolton with his Christmas mullet for holding his own next to Placido Domingo on their duet of "Ave Maria." It's a bright North Star in an otherwise dark musical night.
More at GetBack.com:
Celebrity plastic surgery: See the stars who've admitted to going under the knife