Christie Brinkley shows off bikini body at age 60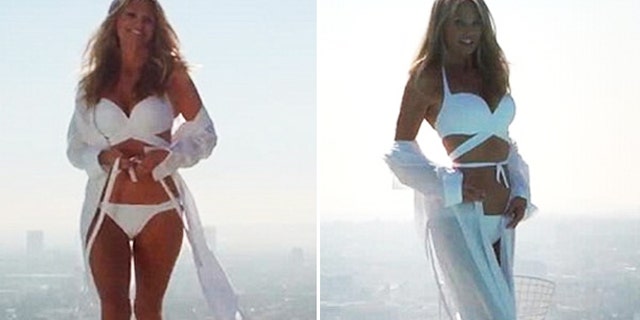 Christie Brinkley has still go it! The 60-year-old, mother-of-three, looks absolutely stunning in this new in-flight instructional video and we bet there are girls in their 20s who envy her right now. The video also stars other Sports illustrated models like Chrissy Teigen, Hannah Davis and Jessica Gomes, but Christie totally steals the show.
All of the models flew down to the tropical Cook Islands for the shoot but Christie explains in the behind-the-scenes video that she couldn't go and had to shoot her scene in the Hollywood Hills.
She says in the video that she's flattered to have even been asked and that she credits Sports Illustrated for skyrocketing her career.
The supermodel who has three kids -- Alexa Ray Joel, 28, Jack Brinkley-Cook, 18, and Sailor Brinkley-Cook, 15 -- tells People that the best thing someone can do is "embrace" getting older.
Here are some of her top tips:
1. Exfoliate Daily: "I've done it since I read that guys look give years younger because they shave," she told the mag — and her skin always looks amazing!
2. Make Working Out Fun: "I'll run or do weights, and I do at least 10 minutes a day on my Total Gym machine," she said. However, it's important to have fun and mix it up! "I got hooked on SoulCycle this summer and during my Christmas vacation, I did yoga. I credit doing Chicago on Broadway for my legs [but] I do leg lifts while brushing my teeth!"
3. Three Meals A Day: "I like to start my day with coffee and coconut milk hazlenut creamer," she explained. "Then I have sheep's milk yogurt with fruit, wheat germ and Anutra (– a supplement full of omega 3 antioxidants and fiber). Lunch is usually leftovers from dinner: beans, veggies."