Cheating on Jada? Will Smith seen getting cozy with 23-year-old co-star in new photos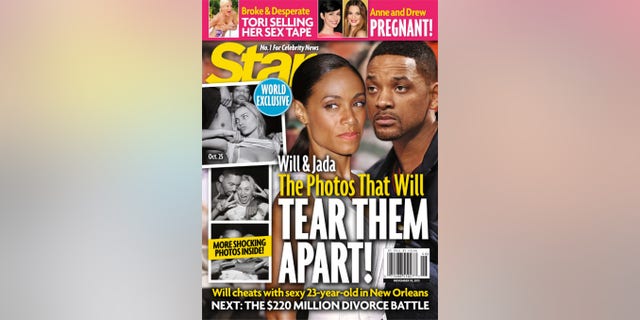 Rumors have been swirling for months that things are less than peachy between Will Smith and his wife, Jada Pinkett Smith, and new photos, published by Star magazine, are adding fuel to the fire.
The images, taken in a photo booth, show Will cozying up to his "Focus" co-star Margot Robbie, a 23-year-old blonde beauty who can be seen lifting her shirt in one picture while Will pushes his bare chest against her back.
In the other pictures, Will is shown wrapping his arms around Robbie and holding her closely.
A source with knowledge of the situation told FOX411 the images were taken shortly after the co-stars wrapped a filming session, and that there is "100 percent no truth" to rumors of a romance between Robbie and Will.
The mega-star is known for his silly antics, but witnesses at the New Orleans event told Star the behavior with Robbie didn't seem innocent.
"They were hanging all over each other, laughing like they were a new couple in love," a source claimed. "He wasn't acting like a married man; he gave no signs that he was in a committed relationship."
Still, the source assured us that there was no romance brewing between the two.
Meanwhile, Jada was reportedly in Baltimore for a speaking engagement.
Jada and Will have repeatedly denied reports that there's trouble in paradise, even after Jada accidentally implied that they had an open relationship a few months back.
Jada told HuffPost Live in April that the media assumes they have an open relationship "because Will and I are very relaxed with one another. But I've always told Will: You can do whatever you want as long as you can look at yourself in the mirror and be OK."
Will and Jada met in 1990 on the set of his hit series "The Fresh Prince of Bel-Air." They married in 1997 and have two children together, Jaden, 15, and Willow, 13.
On Sunday, well before the issue of Star hit newsstands, Jada posted a cryptic message about mistakes on her Facebook page.
"We should never have the expectation to not make mistakes, we should only have the expectation to learn from them," she wrote.
Reps for Will, Jada and Robbie did not return FOX411's request for comment.