Charlie Sheen's Wife Tells Police He Put Knife to Her Throat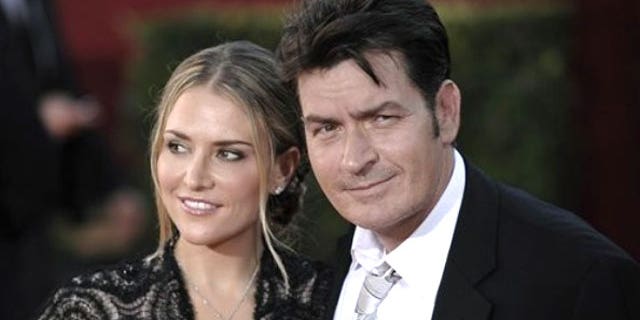 DENVER – Charlie Sheen's wife told police the actor pinned her on a bed, put a knife to her throat and threatened to kill her in a Christmas Day fight in Aspen that began when she said she wanted a divorce.
An arrest warrant affidavit released Monday quotes Brooke Mueller Sheen as saying that the actor straddled her on a bed with one hand grasping her neck and the other holding the knife. She said Sheen told her: "You better be in fear. If you tell anybody, I'll kill you."
He also told her, "Your mother's money means nothing, I have ex-police I can hire who know how to get the job done and they won't leave any trace," according to the affidavit.
The 44-year-old Sheen denied threatening his wife with a knife or choking her, and told officers they had slapped each other on the arms and that he had snapped two pairs of her eyeglasses in front of her, according to the affidavit. An ambulance was sent to the house in Aspen, but police say no one was taken to the hospital.
Charlie Sheen, who is listed in the affidavit as Carlos Irwin Estevez, told police he and his wife have been having marital problems and that she abuses alcohol.
No phone listing could be found for Brooke Sheen, and it wasn't clear whether she has an attorney. The affidavit refers to her as Brooke Mueller.
Sheen was arrested on suspicion of menacing, second-degree assault and criminal mischief. The affidavit also lists a charge of domestic violence, which authorities had not previously mentioned. Sheen is free on $8,500 bond. His lawyer and his agent didn't immediately return calls on Monday.
The couple began arguing around 3:30 a.m. on Christmas Day, the affidavit said. Brooke Sheen told her husband she wanted a divorce and would get custody of their children, according to the affidavit. The couple have twin boys born in March.
Charlie Sheen told police he "became very upset with this threat (of divorce) because of prior experiences." He went through a bitter divorce and custody battle with his previous wife, actress Denise Richards.
A woman who identified herself as "Brooke" and said she was Sheen's wife called 911 around 8:30 a.m.
In an audio recording of the call released Monday, the woman can be heard weeping and sometimes her words are inaudible. At one point she said: "My husband had me (inaudible) with um, with a knife, and (inaudible) he threatened me." Later, she said, "I thought I was gonna die for one hour."
Police say Charlie Sheen surrendered a folding knife with a 4-inch blade.
Chief Deputy District Attorney Arnold Mordkin said Monday the menacing charge is the most serious, usually carrying a sentence of two to eight years in prison and a fine of $2,000 to $500,000. Mordkin said Sheen's next court appearance is Feb. 8, and no decision on whether to prosecute him is expected until shortly before that.
Charlie Sheen stars in CBS' "Two and a Half Men" and Brooke Mueller Sheen is a real estate investor. The couple married in May 2008.