Charlie Sheen's Career Remains Solid Amid Personal Issues, Experts Say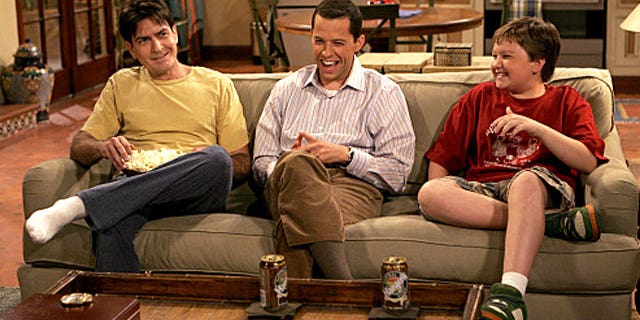 Charlie Sheen may be the highest paid actor on television for his role on the hit comedy "Two and a Half Men," but his personal life is no laughing matter.
The star spent his week's break from filming in New York, where ex-wife Denise Richards and their two children were staying, where a night of partying turned into a huge scandal.
According to the New York Post, police were called to the Plaza Hotel at 2 a.m. Tuesday following a 911 call from hotel security stating that chairs and tables were found in disarray around Sheen's room. He was reportedly found naked and intoxicated inside the trashed room, where he had reportedly been doing cocaine with a prostitute.
The actor was then taken to Columbia Presbyterian Hospital for a psychiatric evaluation, and according to his longtime rep Stan Rosenfield, was released on Tuesday and returned to Los Angeles. According to Rosenfield,, Sheen's hospitalization was simply due to an "adverse reaction to medication" and "everything else is speculation."
His manager Mark Burg told People magazine that upon returning to Los Angeles, he will be getting right back to work on "Two and a Half Men."
Indeed, it seems Sheen remains in high demand, despite any kind of issue he is dealing with in his personal life.
Last May, just months before pleading guilty to misdemeanor assault for a domestic abuse incident involving his wife last December, the actor renewed his two-year contract with CBS for more than $1 million per episode.
"He's a big star. We're so thrilled to have him back. I think we value our stars and our actors. They brand the show. And he's a huge part of it," CBS Entertainment President Nina Tassler said in a statement at the time.
Tuesday's incident certainly isn't the first time Sheen has had an encounter with authorities.
In 1990, the Emmy winner accidentally shot his then-fiancée Kelly Preston, and in 1998 he was admitted to the hospital for a drug overdose, in which a warrant was later issued for his arrest after violating his parole. Sheen was consequently sent to rehab. In 2005, he was embroiled in a bitter divorce and custody battle with Denise Richards, who accused him of abusing drugs and alcohol and threatening her with violence. His 18-month marriage to Brooke Mueller then imploded on Christmas Day last year when he was arrested in Colorado and later formally charged with felony menacing, and third-degree assault and criminal mischief.
In August, following a plea deal for the Christmas Day incident, Sheen was sentenced to 30 days in a rehabilitation center, 30 days of probation, and 36 hours of anger management.
Yet given his latest debacle, which stemmed just weeks after he finished his court-ordered stint in rehab, is it time for his network to stop supporting him and take action? Why does CBS, which declined to comment on this latest incident, continue to turn a blind eye and accept Sheen's bad behavior?
"CBS periodically issues statements of support for Sheen and avoids publicly criticizing him. As long as Sheen keeps fulfilling his duties on the show, the ratings stay huge and advertisers stay on board, he will likely remain on the network," James Hibberd, the TV Editor for Hollywood Reporter told us.
Moreover, network honchos are aware that without Sheen, the success of "Two and a Half Men" could be compromised.
"There's probably not a successful 'Two and a Half Men' without Charlie. If any network is in a position to withstand a production hiatus (if Sheen does return to rehab) for a top show, it's CBS," Hibberd added. "They've won the first five weeks of the fall season and are in the luxury problem of having more shows than open slots."
As so, Hollywood agent Michael Grippo doubts that the incident will have any immediate career repercussions for Sheen.
"It is unlikely that it will cause the show producers to take any additional actions. Sheen is almost irreplaceable on 'Two and a Half Men' and, unless it is a major breach of a behavioral clause in his contract, there is virtually no way that producers will allow this incident to impact the series," Grippo said. "If the allegations are proven true, however, it may have a negative impact on his upcoming projects."
Nonetheless, crisis management expert Gene Grabowski begs to differ.
"This could very well be the straw that breaks the camel's back. These television contracts are written to favor the production company or network, and I would think Sheen would be on thin ice," he said. "I'm sure his insurance premiums are extremely high already, and that would be an issue the network would need to address. He might just be too much of a risk. Luckily for Charlie, his persona on the show is a bad boy. If he was playing a father on a traditional family show, or a single dad trying to set a good example, the situation would be very different."
And although Sheen wasn't arrested in New York on Tuesday (according to TMZ, he was given the option to either go to a hospital or go to jail) , he still may be in violation of his probation, of which he had eight days remaining.
"If a probation officer believes he was in violation the officer could file a motion for a hearing," a representative from the district attorney's office in Denver said. "He may not be arrested on violation, but there may be other terms of probation he violated depending on the terms and conditions outlined by the court, judge and probation officer."
Prosecutor Arnie Mordkin told TMZ, however, that his office would not take any action unless facts proving Sheen violated his probation were provided.