Celebrities weigh in on Betsy DeVos confirmation: 'This is murdering' our school system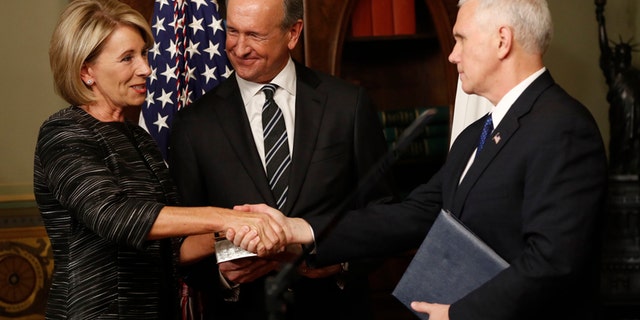 Hollywood stars were eager to share their views after Betsy DeVos' nomination for education secretary was confirmed by the Senate on Tuesday.
Many celebrities, including some who went to private school or have kids in private school, took to Twitter to express their concern that DeVos would be the end of the public school system.
"Avengers" director Joss Whedon went as far as to say the GOP has "declared war on our children."
Comedian Chelsea Handler tweeted, "Betsy DeVos has been confirmed as Education Secretary. So now the entire public education system is basically Trump University" before adding (as she often does) "F--k Pence."
Elementary math under Betsy Devos
Q: Ned and Sheryl each have 4 apples. Who has more apples?
A: Whomever Mike Pence decides has more apples.

— Stephen Colbert (@StephenAtHome) February 7, 2017
Betsy DeVos has been confirmed. Everyone stop having kids.

— (((Joshua Malina))) (@JoshMalina) February 7, 2017
it's heinous. the school system was already so broken -- this is murdering it. @BetsyDeVos you cheated like @realDonaldTrump https://t.co/g3NNvhRukp

— ilana glazer (@ilazer) February 7, 2017
I wouldn't trust Betsy Devos with my dry cleaning. This is a very sad day. The @GOP are such money grubbing cowards. Shameful.

— billy eichner (@billyeichner) February 7, 2017
Betsy DeVos confirmed. What is also confirmed is that there is not one single man of courage in the Republican Congress.

— Seth MacFarlane (@SethMacFarlane) February 7, 2017
Epic fail. #DeVos

— Connie Britton (@conniebritton) February 7, 2017
The U.S. Senate Republicans who just put through the most unqualified Education Secretary in our history have just betrayed our kids. F#*k U https://t.co/wRPLbq3zjQ

— Josh Gad (@joshgad) February 7, 2017
Betsy Devos got confirmed. Everyone who voted for her should be ashamed. Party before country. They're using children's education as pawns.

— Kumail Nanjiani (@kumailn) February 7, 2017