Candace Cameron Bure: 'Full House' reunion show won't be a remake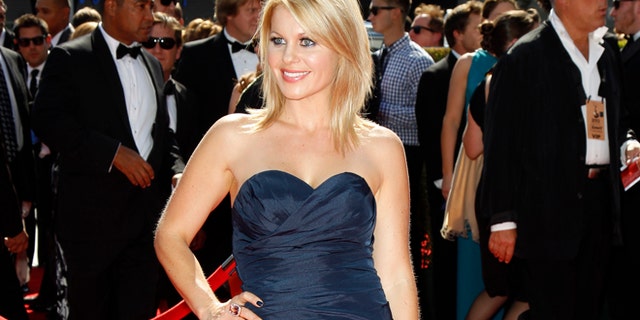 Candace Cameron-Bure did her part to bang the drum for the new "Full House" revival series while appearing at Tuesday night's "Dancing with the Stars" 10th anniversary party in West Hollywood.
John Stamos revealed on Monday's "Jimmy Kimmel Live!" that Netflix has officially ordered 13 episodes of the "Full House" reboot, called "Fuller House."
Cameron-Bure will reprise her role of D.J. Tanner, but now she's all grown up. She told FOX411 at the "DWTS" event, "We're so excited we finally get to share with the world that we're doing this show 'Fuller House.' It'll be on Netflix in 2016; we're shooting it this summer.
"It's kind of like the flip of what the original show was about. So it was three men raising these three girls, but now it takes you to the present day and my character D.J. has two boys [and] one baby on the way and she's just lost her husband. And so she needs help so she asks her sister and her best friend to come back and help raise her kids," she said.
Since "Full House" ended, Cameron-Bure made perhaps her biggest splash on season 18 of "DWTS" last year, finishing in third place alongside partner Mark Ballas.
The devoutly Christian Cameron-Bure told FOX411 that she believes the original "Full House," which ran from 1987-1995, is still so beloved because "It was good family programming and there was always a lesson to be learned, no matter how sugary sweet it was.
"I think people just loved it and it's never been off the air in more than 25 years, so I think the fans will be really excited for the new version of the show."
However, the actress stressed, "We're not trying to remake the old 'Full House' but it will be fresh and contemporary and have current situations that we'll deal with. But I know the feel of what 'Full House' represented for people, that it was a safe show and all of that in the content will be there."
When asked why the show would appear on Netflix, the main provider of on-demand Internet streaming media, instead of its original network, ABC, Cameron-Bure said, "I don't know. Netflix I guess just had the right deal points for us!"
Meanwhile, fans of another classic TV show, "The Wonder Years," won't be seeing a reunion anytime soon, according to one of the cast members.
Danica McKellar, who played Winnie Cooper opposite Fred Savage's Kevin Arnold on the series that aired from 1988 to 1993, told FOX411, "I think that Fred's out of the acting business, he's busy directing. We're all doing different things. I'd be open-minded to doing it. Of course, the fans would love it but I wouldn't hold my breath."
But McKellar, who competed against her close pal Cameron-Bure on the same season of "DWTS" (McKellar broke a rib and finished 6th), is looking forward to seeing the "Full House" reboot.
"I'm so happy for her," McKellar said. "I can't wait to see what they do with it."