Campaign to create 'Beautiful and Bald Barbie' heats up on social networking sites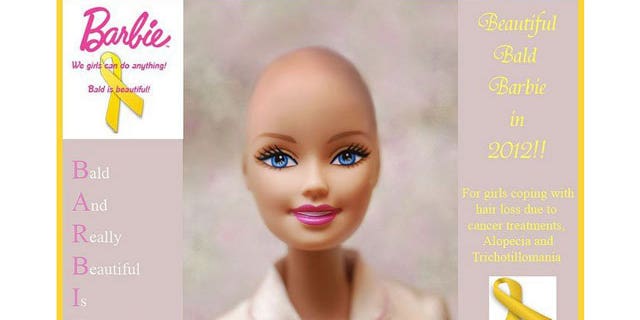 Over the years, Mattel's iconic Barbie doll has had every hairstyle imaginable, including a bubble beehive, a '60s flip and even multi-colored hair extensions. But she's never been bald.
That may change if the women behind the Facebook page, "Beautiful and Bald Barbie" influence executives at the world's largest toy company.
"We would like to see a Beautiful and Bald Barbie made to help young girls who suffer from hair loss due to cancer treatments, alopecia or trichotillomania," reads Jane Bingham and Beckie Sypin's Facebook page, which has almost 40,000 "likes." "Many children have some difficulty accepting their mother, sister, aunt, grandparent or friend going from a long haired to a bald."
The Facebook page was created after the two friends heard about a four-year-girl from Mineola, Long Island, who had lost her hair after treatment for cancer.
Little Genesis Reyes, who missed having her "princess" hair, inspired the parent of another patient in the hospital to ask the CEO of Mattel, who happened to be a personal friend, to create a special bald Barbie doll for Genesis.
"When I read the article about Mattel making a one-of-a-kind bald Barbie for Genesis, I though how wonderful that would be, with so many other children dealing with hair-loss," Bingham told Britain's Daily Mail newspaper. "I thought we could raise awareness for these conditions. Raise awareness that children get cancer too... It would be a win all around."
Bingham, who lost her own hair after chemotherapy treatments for an incurable form of non-Hodgkin's lymphoma, was moved by the reaction of her young daughter to her newly bald head.
"It takes an emotional toll on the child," Bingham explained. "I had very long blond hair... She would mimic me and she would try and wrap scarves on her head too."
So far, Mattel hasn't publicly responded to the growing popularity of Bingham and Sypin's Facebook page, except to say in a form letter that the company "doesn't accept ideas from outside sources."