Busy Philipps recalls helping Michelle Williams in bar fight during 'Dawson Creek' days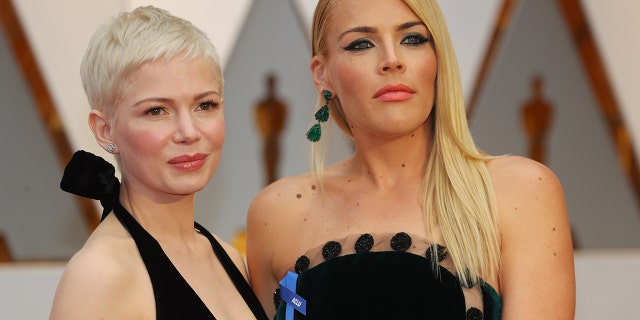 Busy Philipps wasn't about to let anyone speak ill of her best friend, Michelle Williams.
The 38-year-old actress joined the cast of "Dawson's Creek" as Audrey in 2001, and from there, developed a life-long friendship with Williams, who played Jen on the beloved TV series.
"I feel very lucky that TMZ and the Internet did not exist," she said of her time filming the series during an interview on Thursday's "Late Late Show With James Corden." "I would probably not be sitting here today. I would have been TMZ'd out of Hollywood."
Selma Blair Shares Epic Throwback Pic, Talks Auditioning for Both 'Buffy' and 'Dawson's Creek'
Noting she was "wild" during her formative years, Philipps added that she's always been the type to stand up for her friends.
"Michelle and I were at a bar one night, and this girl kinda was a little drunk, and accused Michelle of being really rude to her on a flight," she explained. "Michelle Williams is my best friend for many, many years. She has never been rude to anyone ever. She is the sweetest, kindest, most loving human. If it had been me she'd accused, I would have been like, 'That kinda tracks,' but she accused Michelle of being rude, and I was just like, 'I will not stand for this.'"
To show the girl she meant business, Philipps pulled out a very intense accessory.
Katie Holmes Pens Sweet Note in Support of 'Dawson's Creek' Co-Stars Who Were Left Out of the Reunion
"I had my nose pierced, you know in the middle, like a bull, at the time, in my early 20s, which people didn't know," she said. "And I would hide it when I was doing my acting jobs. And so I flipped my nose ring down and was like… 'Should we take this outside?'"
It's unclear whether Philipps actually had to fight the girl, but it proved she had Williams' back!
The cast of "Dawon's Creek" recently reunited for the show's 20th anniversary, and Philipps dished to ET's Lauren Zima about seeing her old co-stars again. "I don't think anyone was on the fence," she said of the reunion. "I think everyone was really excited. It was a big anniversary for the show, and it was really fun to get together."