Brad Pitt says 'it's business as usual' for Angelina Jolie post-mastectomy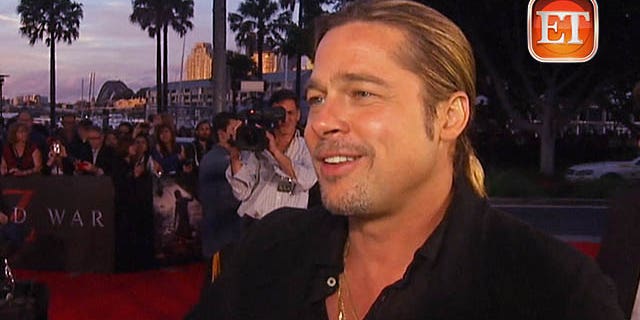 It's been nearly a month since Angelina Jolie, 38, broke the news that she had undergone a double preventive mastectomy. And it has been barely a week since the "Girl, Interrupted" actress made her first public appearance escorting her beau of seven years, Brad Pitt, to the first red carpet premiere of "World War Z" in London.
At the Australia premiere of his zombie apocalypse flick on June 9, Pitt says that Jolie is doing great since the operation and it's back to "business as usual."
Angelina Jolie: "I Feel Wonderful"
"It's onwards and upwards...But I'm really touched. The whole thing's heroic to my mind," he said. "And how many people are also battling with the same decision and she's [Angelina Jolie] just a great example of that it doesn't have to be a scary thing. You can take control of it."
The brunette beauty revealed in a NY Times op-ed piece that she chose the preventive path after having suffered the loss of her mother, Marcheline Bertrand, in 2007 to ovarian cancer and learning she herself carried the same cancer-prone gene.
After a whirlwind of pit-stops at various local theaters in the US last week including Atlanta, Philadelphia, Chicago and Austin to promote his film, Pitt, 49, made his way over to the land-down-under on June 9 for the Australia premiere of his end-of-the-world thriller which took little under six years to complete and at $400 million is the most expensive zombie movie ever made which the "Seven" star boasts as a one-of-a-kind movie.
"We know it's not anything you've seen before," he said. "We know it's the most intense thing you're going to see all summer and people are having a lot of fun with it. So we're thrilled to show it."
Pitt's first-time-ever visit to Australia was met with screams and cheers from hoards of fans who came to meet and greet the legendary actor.
Brad Pitt Surprises Movie Goers In ATL & Philly