Brad Paisley Would Rather Host CMAs Than Sit in Audience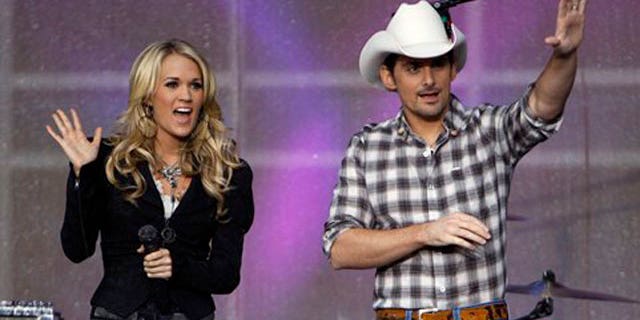 Brad Paisley is up for seven trophies at Wednesday's Country Music Association Awards, but his duties as co-host with Carrie Underwood and performer will keep his attention elsewhere.
He welcomes all distractions.
"It's a good problem to have to be that busy because I've had six nominations and went away empty-handed," Paisley said. "And when you're just sitting in the audience for three hours and perform one time in the middle of that, and then lose six times, that's a long night, you know."
JILL DOBSON BLOG: On the Scene With Danny Gokey
Paisley learned last year when he won two awards, including his second straight male vocalist trophy, that time flies when you're having fun, and hosting with Underwood turned out to be a blast -- in a lot of different ways.
Underwood even served as a distraction with 10 dress changes from red carpet to after parties. Paisley joked he served as her designated zipper technician.
"This year I think we might actually hire a zipper tech to take care of that and have that person standing by with hands ready to zip or button accordingly, someone who is an expert, a former Boy Scout who knows all kind of knots or something," Paisley said.
Paisley could have more on his hands if things go just right. The leading nominee is up for the biggest awards of the evening, including entertainer, male vocalist and album of the year.
Keith Urban is next with five nominations and Taylor Swift, Zac Brown, George Strait and Jamey Johnson have four.
While the entertainer of the year category has been fairly predictable the last five years with Kenny Chesney winning four out of five times, there seems to be plenty of mystery around this year's awards.
The biggest question is whether Taylor Swift -- this year's top-selling music artist in all genres outside of Michael Jackson -- can end his reign and also become the first female solo artist to win the category since 1999 when Shania Twain won. In addition, she can end Carrie Underwood's streak: Swift is competing with her for female vocalist of the year, an award that Underwood has won three straight years.
Underwood thinks it will be tough to win as she faces off with Swift, Reba McEntire, Miranda Lambert and Martina McBride.
LIVESHOTS: Fox News on-the-ground reports from Nashville.
"I'd so be lying if I said, 'Oh, I don't care,"' Underwood said. "I'm competitive. Of course I want to win. But I'll completely understand if I don't. I mean, they have Reba nominated. I mean, like, hello. I would be so happy if she kicked all our butts. That would be so awesome."
There are several other interesting races.
Brooks & Dunn, who earlier this year announced the end of their two-decade partnership, are nominated for vocal duo and musical event (with McEntire), for instance.
And there will be plenty of attention on Darius Rucker, who will be looking to join Charley Pride as the only black performer to win male vocalist of the year. But he faces a who's who of country music -- Paisley, Urban, Chesney and George Strait.
He also is up for new artist against the Zac Brown Band, Randy Houser, Jamey Johnson and Jake Owen.
"I might have a chance at new artist just because I've had such a cool year," Rucker said. "But I think Zac's going to win, the Zac Brown Band. But I have zero chance in male vocalist. I would love to see what the odds are in Vegas of me winning male vocalist of the year."