Bluegrass legend Ralph Stanley to tour this summer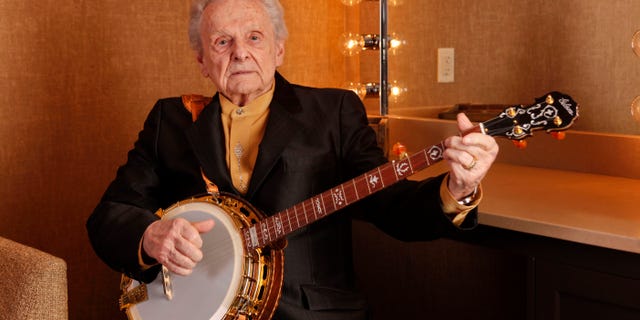 The old farm boy who used to raise cattle in a place called Big Spraddle Creek says at age 87, he doesn't even raise a garden.
But Ralph Stanley still raises his voice. And when he does so in tandem with that distinctive claw-hammer style of five-string banjo picking, his "High Lonesome Sound" that helped create and define bluegrass music still comes through true and clear.
The last of the original bluegrass legends arrives Saturday at the Huck Finn Jubilee in Ontario for a rare Southern California appearance that was to be part of a farewell tour. But just like that garden, retirement got put on hold.
"That rumor got started, and I guess it was partly my fault, because I said it," the jovial musician noted by phone earlier this week. "But then I decided I feel as good, and I play as good, and I'm in as good a voice as I was a hundred years ago."
So instead he'll be back on the road this summer. Just like he was during the 68 previous summers.
He'll do all the old mountain songs like "Man of Constant Sorrow," ''Will the Circle Be Unbroken" and of course "O Death," which won him a Grammy.
At this week's three-day festival he'll be surrounded by younger, so-called "newgrass" bands that sometimes add electric instruments as they blend the traditional with the modern. But don't expect that from Stanley and his Clinch Mountain Boys.
"Of course I prefer the old style. The real bluegrass," he says with a chuckle. "Reckon I sound prejudiced."
But he's not. He enjoys the new stuff too.
"But I never did try to copy anybody," Stanley added. "I wanted my own sound to come out."
It was a sound created on home-built instruments made out of sticks until his mother bought him his first banjo when he was a teenager. He watched her play it a couple of times, then set to work.
"I play it natural, just like I'm talking," he says. "I can't read a line. Not a note of music."
After the tour he'll return to the little town of Coeburn, Virginia, not far from where he grew up. Although music has taken him all over the world, when he's not playing he's not much on traveling.
"Afraid I'll get lost," he jokes.