Billy Bob Thornton on ex-wife Angelina Jolie, his Southern roots and Syria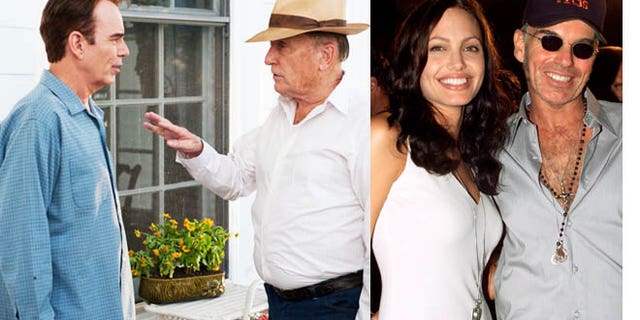 LOS ANGELES – Billy Bob Thornton and Angelina Jolie ended their three-year marriage a decade ago, but Thornton has nothing but respect for his ex-wife, who was recently announced as a recipient for a 2013 Humanitarian Oscar.
"I am absolutely proud. No one deserves it more, when you put your life out there like she has it is humbling for the rest of us," Thornton told FOX411. "This is someone who can just go along and be a star, but instead she really puts herself out there for people, and no one deserves it more."
And while Jolie's philanthropic efforts are often splashed across news outlets around the world, Thornton says his style is a little more low-key.
"I have my charities that I am involved in, but I am kind of a hermit," he explained. "So no one knows about what I do."
Except his movies. The Arkansas native is the writer/director/star of the new movie "Jayne Mansfield's Car." Filmed in Georgia and set in 1969 Alabama, the drama centers on three World War II vets, the Caldwell Brothers (Thornton, Kevin Bacon and Robert Patrick) and their World War I vet father (Robert Duvall). When relatives from London descend on their tiny American town, the generations of men are forced to examine the things that unite them, despite their differences.
Returning to his Southern roots made Thornton reflect on just how much those younger years in Hot Springs, Ark. shaped his Hollywood career.
"You have got to hang on to your roots; generally that's your strongest work. Stuff that you know about. I think we all stop growing at about age 19, that's who you feel you are forever. There are a lot of things we want to say about growing up that we don't have the time to say, so you just keep putting them in every movie," he said. "The South is very rich and full of storytelling tradition, so I grew up with the Southern novelists – Erskine Caldwell, Tennessee Williams. Those were more influential to me than movie makers. We didn't really concentrate on movie makers where I grew up. I didn't grow up with an intense desire to be a film director."
Rather, Thornton was into baseball and music, and his family was big on literature, so reading those Southern authors occupied a lot of his time.
"I make books on film in a way, so that's probably why I don't make movies that make $500 million because that is not what today's audience is looking for," he surmised.
Thornton says "Jayne Mansfield's Car" explores the notion of morbid curiosity, and although he hit headlines back in the day when he and Jolie wore matching blood vial necklaces, he insists he doesn't have any real macabre fascinations of his own.
"That was actually my dad's doing, he would have me and my brother go out to see the aftermath of car wrecks. My brother and I would go play in a ditch while he stared at it. We didn't really quite understand it," he continued. "He was a war veteran and I think he couldn't quite articulate his feelings sometimes and I think he stared at tragedy, trying to figure it out and that is what his character (Duvall) in the movie does."
And with the possibility of air strikes against Syria and the crisis of chemical warfare continuing to dominate the news, Thornton had something to say.
"I don't know much about the inner workings, and it is hard to know, in other words, do you strike or not strike? In certain instances I don't think that all of us in the public are privy to what is right or wrong in those situations, so it is hard to even form an opinion because we don't know all the details or repercussions or what is needed," he added. "I don't like war period, and I wish there didn't have to be any but there have been times in history where it is necessary."
"Jayne Mansfield's Car" opens in select theaters September 13.
Danielle Jones-Wesley contributed to this report.