Billboard Latin Music Awards Feature Pitbull, Enrique and Gloria Trevi Performances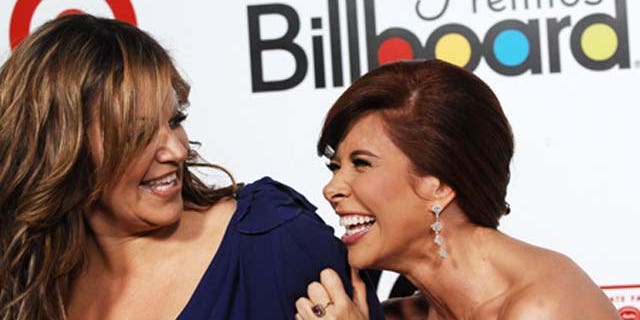 It's all about Latin music next week as Billboard presents their 22nd annual Latin Music Conference on Wednesday, April 26-27 at the Eden Roc Renaissance Hotel in Miami Beach, Fla.
The networking event will culminate with the Billboard Latin Music Awards on April 28 at the Bank United Center in Miami, Fla., shown on Telemundo.
"This is a ground for labels and artists to meet and where deals are struck," said Leila Cobo, Executive Editor for Latin Content and Programming for Billboard. "It's very valuable programming where we will be discussing issues affecting the industry."
Various artists are said to be participating in multiple panels and marketing research events.
Reguetonero Don Omar is scheduled to take part in Billboard's "My Big Vast Social Network" panel, where social media techniques will be outlined to help artists promote themselves and interact directly with fans with ease.
"We want the artist to learn how to use social networks better," Cobo said. "There is a growing group of people that listen to music in Spanish but don't necessarily consume Spanish-language music. In the panel we will be teaching how to use Facebook to promote music better."
Music icon Gloria Estefan will be receiving Billboard's Spirit of Hope Award for her philanthropic accomplishments far beyond music. Like Estefan, veteran musician Emmanuel is also being honored with Billboard's Lifetime Achievement Award.
The Spirit of Hope Award was created as a tribute to Tejano singer Selena. Other artists who've been honored with the award include Shakira, Juan Luis Guerra and Ricky Martin, while Vicente Fernández, Carlos Santana, and Celia Cruz are among the few recipients who've received the Lifetime Achievement Award.
Enrique Iglesias, Luis Fonsi, JenCarlos Canela and Gloria Trevi are among the confirmed celebrities who will perform on Thursday. Maná, who is conducting an exclusive interview about their musical evolution, will also be performing. Pitbull, Camila and Banda el Recodo will take the stage as well.
"It's coming along great. This year we have a lot more artists," said Cobo. "An artist like Gloria Trevi brings a back story that is very interesting."
Cobo adds that the conference will highlight crucial questions that Trevi can address about evolving as an artist personally and professionally yet staying relevant and successful.
"I've never seen a artist like that in Latin music," Cobo said. "She's made a transition and she's a whole different persona… but she's still fabulous."
You can reach Alexandra Gratereaux at: Alexandra.Gratereaux@foxnewslatino.com
or via Twitter:@GalexLatino
Follow us on twitter.com/foxnewslatino
Like us at facebook.com/foxnewslatino