Benicio del Toro on playing one of world's most notorious criminals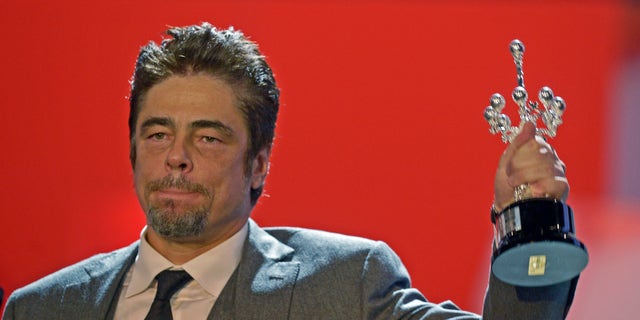 Looking relaxed and much leaner than his latest screen incarnation as the heavyweight, disheveled drug lord, Pablo Escobar, Benicio Del Toro arrived at the San Sebastian Film Festival on Friday to collect the festival's Donostia Award for Lifetime Achievement in an upbeat, playful mood.
"Well, it's an honor," Del Toro said of the Donostia Award, "Because Its the first time I've been given a career award and also because it comes from the San Sebastian Festival which has for many years been the festival I have enjoyed the most."
Born in Santurce, Puerto Rico, the son of lawyer parents, Del Toro grew up in Pennsylvania and made his way through New York and L.A. drama schools before landing bit parts on television.
"As a teenager, I never thought I'd get an award such as this," said Del Toro.
"I dreamed of course, but dreaming is essential, in order to be an actor .To appear in front of a camera and tell a story is a pretty complicated process and it's very difficult for any actor starting out .There's a lot of rejection and you've got to have very thick skin, like a crocodile."
Del Toro was also in San Sebastian to attend the European premier of "Escobar: Paradise Lost," the directorial debut of Italian actor Andrea Di Stefano, that blends the true story of Colombia's infamous drug king with a fictional Romeo and Juliet love story between a young Canadian surfer, played by "Hunger Games" Josh Hutcherson, and Escobar's niece (Claudia Traisac). who become embroiled in the toxic empire of the all-powerful criminal before attempting to escape the cartel's reign of terror.
Trailing positive notices from the Telluride and Toronto Film Festivals, "Escobar: Paradise Lost" marks something of a return to form for the actor. Ostensibly taking a supporting role as Pablo Escobar, Del Toro's brooding intensity dominates and lends an essential gravitas to Di Stefano's debut as director .
Colombia's most notorious criminal died in a shoot out in 1991, but Escobar's name still elicits shivers of fear or worshipful admiration for a man who once ran a multi-million dollar drug cartel and brought terror along with cash to struggling Colombian communities.
After numerous documentaries and books about Escobar´s life there has been a slew of recent Escobar projects: including a 2012 Colombian mini-series, and the upcoming production of "The Ballad of Pablo Escobar," starring John Leguizamo in the title role. Why the fascination with a man behind so much violence ?
" I did feel the pain that went through Colombia at that time" said Del Toro. "And anyone who reads about Escobar sometimes find it difficult to understand. There were good and very bad sides to his life and it's true a lot of people got hurt by this man."
The role seems almost tailor -made for Latin America's highest profile star, the 48 year-old who won the Best Supporting Actor Oscar for his role as a Mexican cop in Steven Soderbergh's "Traffic" (2000) and the 2008 Cannes Best Actor Award for the two-part "Che,' playing Che Guevara, also directed by Soderbergh.
The future Oscar winner made his breakthrough as the mumbling, effete gangster, Fred Fenster, in Bryan Singer's 'The Usual Suspects ' in 1995 , a performance, he says, inspired by Dustin Hoffman's role as Mumbles in 'Dick Tracy'. It heralded the offbeat chameleon quality of one cinema's most compelling character actors who also has an unerring ear for comedy.
Tall and dark with hair swept back from his distinctive granite jawed features, Del Toro reflected at San Sebastian on how Di Stefano's semi-fictional movie allowed him to explore the dramatic ambiguities of Pablo Escobar.
"What attracted me was the script and the sensibility of Andrea, " said Del Toro, " The truth of Escobar's life was that he helped many people, so to some he's still a Robin Hood, but to the rest of the world he is a monster. I've been doing this job for a while and it better to approach this kind of subject kind of like a surgeon. I don't want to become him, but examine and know him."
Last seen in "Guardians of the Galaxy," a sci-si action film for Walt Disney Pictures/Marvel Enterprises, Del Toro is currently working on Denis Villeneuve's "Sicario" and next year will appear in " Inherent Vice," directed by Paul Thomas Anderson. Does he make any distinction between real-life and fictional characters?
"I've played many real-life and fictional characters and its no more easy or difficult to do either," Del Toro said," "Basically you research and study the character, almost like a journalist, then a bell rings and you start the film. That's when it all comes together, in shooting the scenes."