Ben Affleck will play Batman in new movie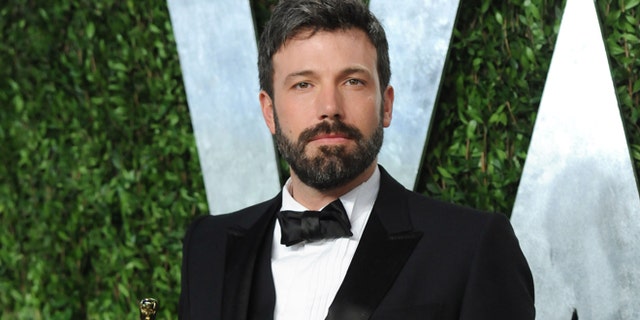 Ben Affleck will don Batman's cape and cowl, and fans aren't too thrilled by the news.
Warner Bros. announced Thursday that the 41-year-old actor-director will star as a new incarnation of the Dark Knight in a film bringing Batman and Superman together.
The studio said Affleck will star opposite 30-year-old Henry Cavill, who will reprise his role as Superman from "Man of Steel." The movie will also feature "Man of Steel" stars Amy Adams as Lois Lane, Laurence Fishburne as Perry White and Diane Lane as Martha Kent.
The big-screen DC Comics superhero mash-up was first revealed by director Zack Snyder at last month's Comic-Con International in San Diego.
Snyder, who will direct the sequel written by "Man of Steel" screenwriter David S. Goyer, said in a statement that Affleck will provide an "interesting counter-balance" to Cavill's Clark Kent.
"(Affleck) has the acting chops to create a layered portrayal of a man who is older and wiser than Clark Kent and bears the scars of a seasoned crime fighter, but retain the charm that the world sees in billionaire Bruce Wayne," said Snyder. "I can't wait to work with him."
The reaction from fans of the franchise, however, was less enthusiastic.
The term #BetterBatmanThanBenAffleck was the top trending Twitter hash tag on Friday, with scores of users suggesting that just about anyone would have been a better pick for the role.
"Chumlee from Pawn Stars #BetterBatmanThanBenAffleck," one user quipped.
Others suggested Damon Wayons, singer Pink, "the guy who played the Beaver on 'Leave it to Beaver,'" Peewee Herman and Russell Brand.
Some users were gentler in their crticism, suggesting that Affleck would be a better fit for the director's chair than the starring role.
"I thought we were in the 'Ben Affleck the awesome director' phase, not the 'I still want to be a movie star' phase," one user tweeted.
A petition quickly popped up on Change.org demanding Warner Bros. "Remove Ben Affleck as Batman/ Bruce Wayne." It had garnered nearly 2,000 signatures by early Friday morning.
Production on the as-yet-untitled film is expected to begin in 2014 for release July 17, 2015.
It won't be Affleck's first time in superhero garb. He played a blind Marvel crime fighter in 2003's "Daredevil" and portrayed 1950s Superman actor George Reeves in 2006's "Hollywoodland."
Affleck's "Argo," which he starred in and directed, won the Academy Award for best picture earlier this year.
Christian Bale most recently played Batman in director Christopher Nolan's "Dark Knight" trilogy.
The Associated Press contributed to this report.