Bella Thorne shows a lot of skin in topless Snapchat photo
NEWYou can now listen to Fox News articles!
Bella Thorne is turning heads yet again.
The 20-year-old former Disney star, who is no stranger to showing skin, recently shared a racy topless photo on Snapchat.
In the image, a shirtless Thorne covers her chest while giving the camera sultry look. The star dons a pair of black jeans while posing in an outdoor setting.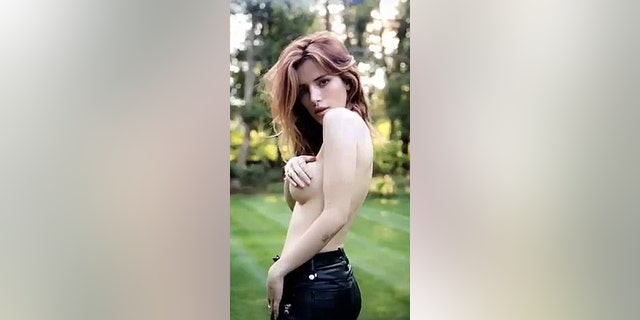 The "Famous In Love" actress has always been one to show some skin on social media.
In April, Thorne posted a series of images of herself dancing and posing in an oversize white T-shirt and pink, brief-like underwear.
The young star was recently the subject of a Vogue.com documentary that followed the star's everyday life. In the personal video, Thorne said that Instagram is not just a photo-sharring outlet for her, but also a job.
"For [an Instagram] grid posting, it's 65 grand a post," Thorne revealed in the "Inside the Life of Bella Thorne," film. "For story posting, it's anywhere from 10 to 20K, and for Snapchat, it's the same as Insta story."
She added that a lot of the money she has aquirred over the years has come from social media.
"I started out at 18 with literally $200 in my bank account and I bought this house a year later, a year and a half," she said. "That's all from social media."