Bachelorette's Ali Fedotowsky Already Has Ideas for Wedding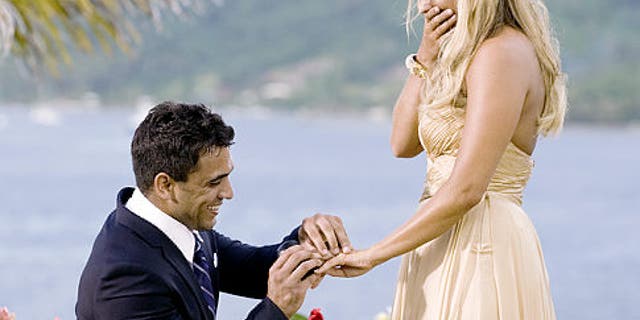 The newest Bachelorette couple may have just gotten engaged, but the bride already has one detail for her wedding decided: There will be yellow.
Bachelorette's Chris Harrison: Ali knew night one it was Roberto
"There will certainly be yellow in the wedding. Maybe a white dress with a splash of yellow ribbon," Ali Fedotowsky tells TVGuide.com.
Throughout the season, it was no secret what the 25-year-old's favorite color was — she even wore a flowy yellow gown during the final rose ceremony.
One thing she hasn't looked at? Wedding gowns.
"I've read people saying [that] I was considering certain designers and I've never done that," she says. "If we were in paper bags dancing around a bonfire, that would be perfect. "
Ali on her Bachelorette journey: "I was scared"
"What's important to me is that she's there, but other than that, my family," fiancé Roberto Martinez says. "Make sure we've got a little place to dance, got some good music and be comfortable. I want her to enjoy it."
So will their nuptials be televised like Trista and Ryan's, and Jason and Molly's? "We're definitely open to the idea," Martinez says. "The money we can save from that, we can invest in our lives, and it would be cool to share that moment with everybody."
View original Bachelorette's Ali Already Has Ideas for Wedding at TVGuide.com.