'Bachelorette' winner Garrett Yrigoyen addresses Instagram scandal following Becca Kufrin engagement
"The Bachelorette" winner, Garrett Yrigoyen, offered an explanation and an apology for his past controversial Instagram activity during Monday's live season finale following his engagement to Becca Kufrin.
Yrigoyen, 29, sat down with host Chris Harrison on "After the Final Rose" show and said he and Kufrin, 28, worked through the scandal to become a stronger couple.
The California native received backlash in May after a former "Bachelor" contestant resurfaced posts that Yrigoyen "liked" on Instagram. The posts included memes that mocked transgender people, immigrants and feminists, as well as claimed Parkland shooting survivor David Hogg was a crisis actor.
"I didn't realize the effect behind a double tap or a like on Instagram. So I put out an apology [on Instagram in May]. I didn't mean to offend anybody, I apologize for that still," Yrigoyen said. "I didn't mean to hurt anybody's feelings or do anything like that. So I stand by everything that I posted in my apology, and I'm just trying to grow as a person, be a better person on a daily basis."
'BACHELORETTE' BECCA KUFRIN: 5 FAST FACTS ABOUT THE MINNESOTA REALITY STAR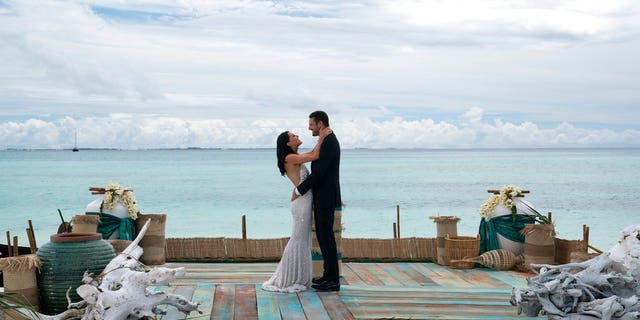 Yrigoyen said his new fiancée helped him through the scandal.
"We've been honest and open and transparent with one another since the beginning. And when that all came out, we attacked it, because I feel like when I was liking things, it was going against what she stands for, and that made it really hard on us as a couple," he added. "So when we started talking about that, we got through that together, and we're growing, we're progressing and we're moving forward."
Kufrin said she doesn't condone the "Instagram situation."
"I know that he stands by his apology and he feels so bad for everyone that he did offend and he didn't mean it. But I just want to move forward and to learn and to grow and to continue to educate ourselves," Kufrin told the audience Monday night.
Yrigoyen admitted he thought Kufrin might break up with him when the scandal became public, which occurred around the time of the season premiere.
'BACHELORETTE' STAR LEANDRO DOTTAVIO DENIES HARASSMENT CLAIMS FOLLOWING BEKAH MARTINEZ ACCUSATION
Yrigoyen deleted his old Instagram account shortly after the posts were made public and issued an apology on a new profile. Kufrin also came to his defense in May and asked viewers to keep an open mind.
In an interview with People this week, Kufrin defended her fiancé as a "a good guy."
"We've all made mistakes and done things that aren't perfect. But all I could ask for is somebody who owns up to what they've done and who apologizes and wants to grow. And that's what he's done," she said.
Kufrin and Yrigoyen got engaged after the 28-year-old Minnesota native sent home runner-up Blake Horstmann during the taped finale in the Maldives.