'Bachelor' star Amanda Stanton allegedly 'swung' phone at boyfriend prior to domestic violence arrest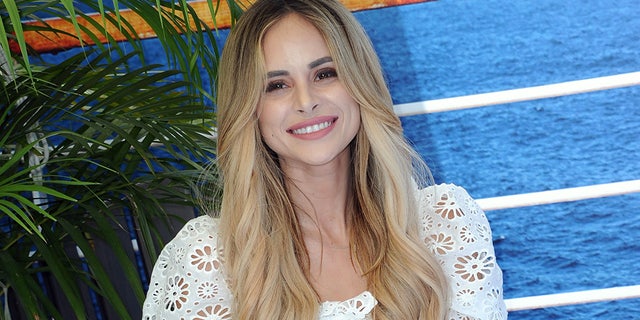 New details in the arrest of "Bachelor" franchise star Amanda Staton have emerged since her Las Vegas arrest for domestic violence on Monday, September 10.
In court documents obtained by Us Weekly, Stanton's boyfriend, Bobby Jacobs, claimed that he was sleeping in his hotel room when his girlfriend came into the room around 11 p.m.
Stanton, who had just returned from the "Magic Mike" show, allegedly yelled at her boyfriend for not responding to her calls or texts while she was out.
Jacobs then claimed that his "Bachelor" star girlfriend began "to hit him while he was laying in bed," which lead to an argument that reportedly lasted for hours.
Following their spat, Stanton's boyfriend alleged that he called her friends into the room. But reality star's friends soon left after they believed Stanton was sleeping.
But that wasn't the end of the couple's fight.
As soon as Stanton's girlfriends left the room, Jacobs alleged that the two began fighting again, at which point the 28-year-old, mother of two, "swung" the room's hotel phone at him and hit his body. After the telephone swing, Jacobs claimed that his girlfriend continued to be physical and attempted to kick him before falling.
When Stanton was on the ground, her boyfriend alleged that he held her down to prevent her from hitting him. But despite being pinned to the floor, Jacobs claimed that she "continued to scratch and pinch" him on his "arms and body." He then called in Stanton's friends once more who sent for the hotel security.
In contrast to Jacob's explanation of what occurred after Stanton fell, the "Bachelor" star alleged in her court documents that Jacobs "pinned her down on the bed," and she "begging him to let her up." She also claimed that she only pinched her boyfriend "to get free."
The new details in Stanton's domestic violence and battery case come after the reality star, who was celebrating a bachelorette party at a hotel near the Las Vegas Strip with friends, was arrested for battery domestic violence, the Las Vegas Metropolitan Police Department confirmed to Fox News.
Steve Honig, a spokesperson for Stanton, said in a statement that "Amanda is embarrassed and ashamed this happened and sincerely apologizes to hotel security and the Las Vegas Police Department.
"Amanda is a gentle, respectful person who has never gotten physical with anyone under any circumstance," Honig continued. "That evening she had a few drinks at a bachelorette party and when hotel security asked her and Bobby to quiet down, she got a bit rambunctious."
Stanton, according to her rep, "gave Bobby what she thought was a playful shove," despite her boyfriend telling security it wasn't "ill-intended."
Stanton competed in season 20 of "The Bachelor," vying for Ben Higgins' heart. She made it to a final group of four girls before being eliminated.
Fox News' Nicole Darrah contributed to this report.