Asia Argento threatens to sue Rose McGowan over statement on Jimmy Bennett sex assault case
Asia Argento threatened legal action against Rose McGowan on Monday and demanded she retract her previous statement claiming the Italian actress admitted to having sex with Jimmy Bennett.
In a tweet on Monday, Argento said McGowan's lengthy statement released on Aug. 27 was filled with "horrendous lies."
"Dear @RoseMcGowan. It is with genuine regret that I am giving you 24 hours to retract and apologise for the horrendous lies made against me in your statement of August 27th. If you fail to address this libel I will have no option other than to take immediate legal action," Argento tweeted.
McGowan said in her previous statement that Argento had told her and her partner, model Rain Dove, that she was being extorted each month.
"Asia had mentioned that she was being extorted for a large sum of money every month by someone who was blackmailing them with a provocative image," McGowan wrote. "No one in the room knew who the extortionist was. Now we know it to be a reference to this case."
ROSE MCGOWAN TELLS ASIA ARGENTO: 'BE THE PERSON YOU WISH HARVEY COULD HAVE BEEN'
McGowan added Argento texted Dove saying she did sleep with Bennett and that she had been receiving "unsolicited nudes" of the actor since he was 12. The texts were published by TMZ just days before McGowan's statement.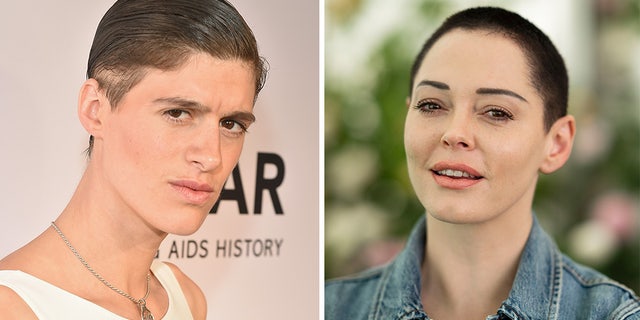 "I received a phone call and series of messages from the being I've been dating - Rain Dove. They said that they had been texting with Asia and that Asia had revealed that she had indeed slept with Jimmy Bennett," the actress said. "Asia mentioned in these texts that she didn't take any action on those images. No reporting to authorities, to the parents, or blocking of Jimmy's social media. Not even a simple message 'Don't send me these images. They are inappropriate.'"
"There were a few other details revealed as well that I am not at liberty to mention in this statement as investigators do their job," she added.
Dove went to the police, with the support of McGowan.
The "Charmed" actress also shared how she met Argento, whom she previously referred to her as her "ride or die" and have both become prominent figures in the downfall of disgraced movie mogul Harvey Weinstein and the rise of the #MeToo movement.
"I first met Asia on a red carpet, but it's only been the past year, through our shared experience of the HW case, that we have bonded. Asia was a person who understood my trauma in a way that many others didn't. We were able to talk through them together and champion each other's voices," McGowan recalled.
She ended the statement urging Argento to "do the right thing" and "be the person you with Harvey could have been."
ASIA ARGENTO ACCUSER JIMMY BENNETT BREAKS SILENCE ON SEXUAL ASSAULT ALLEGATION
Argento's alleged sexual relationship with Bennett came to light in a New York Times bombshell report published on Aug. 19. Citing court documents, Argento, through her late boyfriend Anthony Bourdain, paid roughly $380,000 to Bennett after he confronted her regarding an alleged sexual encounter that took place in 2013 in a Ritz-Carlton hotel room in Marina Del Rey, Calif.
During the alleged incident, Argento, then 37, showed Bennett, then 17, notes that she previously wrote to him and gave him alcohol. She kissed him, pushed him back on the bed, performed oral sex on him and then the two had intercourse, according to The New York Times.
Argento, now 42, has denied the accusations, saying in a previously statement: "I strongly deny and oppose the contents of the New York Times article dated 20 August 2018, as circulated also in national and international news.
"I am deeply shocked and hurt by having read news that is absolutely false. I have never had any sexual relationship with Bennett."
Fox News' Mariah Haas contributed to this report.