Anti-Gwyneth Paltrow/Obama art, tweet a security threat?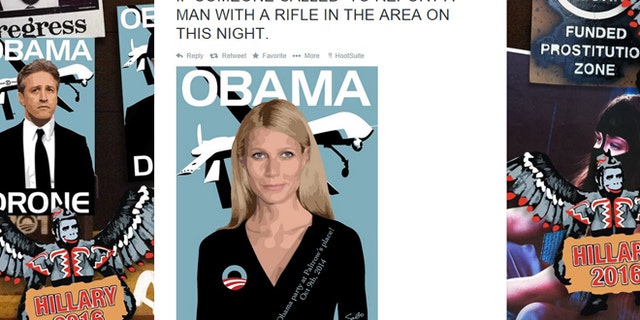 LOS ANGELES – Not everyone in Hollywood is excited about the fundraiser for President Barack Obama at Gwyneth Paltrow's home on Thursday night.
A street artist who goes under the name Sabo admitted to placing a number of anti-administration posters around her opulent Los Angeles neighborhood a couple of nights ago, which featured a stiff and smiling Paltrow in front of an eerie backdrop of a cartoon-like predator drone and the text "OBAMA DRONE."
Sabo – who operates under the company name and Twitter account @unsavoryagents – also tweeted a picture of the Paltrow poster five days ago along with the text: "IT REALLY WOULD BE A CRYING SHAME IF SOMEONE CALLED TO REPORT A MAN WITH A RIFLE IN THE AREA ON THIS NIGHT."
He told FOX411 on Wednesday that he had not been contacted by any authorities or security officials regarding the tweet.
"I'm very careful about direct threats," he said. "I'm not trying to start a riot."
Reps for the United States Secret Service, the Los Angeles Police Department, and Paltrow did not respond to requests for comment.
A portion of Sunset Boulevard will be closed for the high-profile event, which is slated to attract some of the entertainment industry's most prominent names. Sabo also tweeted on Tuesday that he was seeking "a face painter who's willing to work for free ASAP for the Paltrow project," however he said he was unsure if he would actually stage anything.
Paltrow is not the first Obama-supporting star to be targeted by Sabo. He previously created "Obama Drone" artwork with likenesses of Samuel L. Jackson and Jon Stewart, and is also known for his unbecoming depictions of Hillary Clinton. For the last 15 years, the L.A-based artist says he has been creating works in an effort to be "the other voice."
"The left is constantly telling people that anyone (who is not left) is bigoted or misogynist," he said. "All of the voices (at art school) are leftist… The Republicans have a great story with no one to tell it."
According to the Unsavory Agents Facebook page, the company's mission is not only to "let the art world know that the left-wing will no longer hold art hostage" but to "get more non-leftists interested and to participate in the arts."
"Our art is politically minded, right-wing centric, brutal, street level, and hard edge," the page reads. "Our means are achieved by any creative means necessary."
Tickets to attend the Democratic National Committee fundraiser at Paltrow's home cost between $1,000 and $32,000 per person.