Anna Wintour banned Kim Kardashian from attending Met Gala with boyfriend Kanye West, report says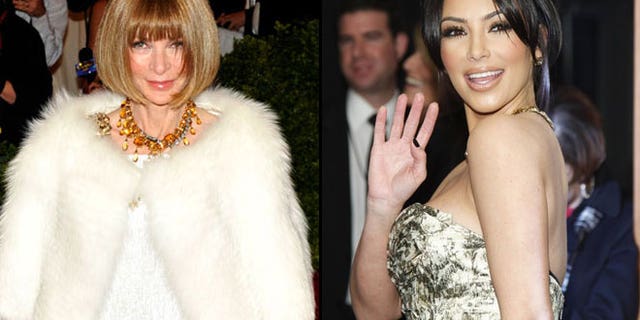 Anna Wintour banned reality TV star Kim Kardashian from Monday night's Met Costume Institute Gala, according to a report.
Kardashian, 31, was conspicuously absent from Kanye West's arm on the red carpet of the event.
Now, Radar Online reports that Kardashian's name stayed off the guest list as a direct edict from the Vogue editor-in-chief, who hosts the evening and approves every star who enters.
"Anna hates Kim," a source told the gossip website. "Why would she be invited to the event? It is all the biggest stars in the world and Kim doesn't fit that bill at all."
Kardashian had tweeted just hours before the ball, "So excited to see all the fashion going on in New York tonight at the MET!" The post led many to believe that she would be attending.
But the attention-loving star did not make it down the red carpet beside beau West, who wore a classic tux.
"Kim and her camp will deny that she wasn't invited by saying that she had business in LA, but that is a lie. She would have done anything to be there with all the A-listers," the source added. "The Met Gala is $25,000 a ticket, but Kim couldn't even buy her way in."
Last week, the New York Post revealed exclusively that Sports Illustrated cover girl Kate Upton had paid her own way to the ball, writing a check and handing it to Wintour personally.
Click here for more from the New York Post.