America Ferrera hits Emmys red carpet 24 hours after finishing her 1st triathlon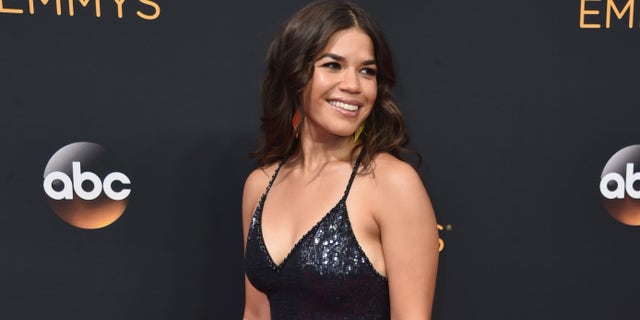 NEWYou can now listen to Fox News articles!
America Ferrera went from grind to glam all in under 24 hours.
The "Superstore" actress, who has been training for several months, completed her very first triathlon on Saturday before having a glamorous make over to celebrate the Emmys.
"I did it!!!!!!!!!! My time was really 3:42!! So much better than I expected!" the actress wrote in an Instagram video showing her crossing the finish line in Malibu.
Then, after a meal of Mexican food, Ferrera dressed up for a pre-Emmy party with her husband. She kept her triathlon number on her arm because she "earned that s***."
On Sunday, the Golden Globe winner, wearing a navy blue, sequin 70s-style Jenny Packham jumpsuit, hit the red carpet at the Emmy Awards and could not stop gushing about finishing the race which involves swimming, cycling and running in immediate succession.
"It was incredible. I'm proud of committing to it and doing it as I am just about everything else I've done in my life. And it was incredible," she told E! News' Guiliana Rancic.
"I'm so grateful for my body, how healthy it is, how strong it is and that I'm able. That was my main thought—'I'm so grateful that I'm able to do this.'"
Also on the red carpet, Ferrera spoke out about diversity – or lack thereof – in Hollywood.
"There are so many people who want to be seen and represented and TV has always needed to kind of speak to the masses," she told People magazine. "With the expansion of the many ways we watch television I'm proud to be an actor on TV when TV is getting it right ... We have a long way to go."
Only two Latinos were nominated for an Emmy Award this year: Dominican-American voice actor Anthony Mendez for his work as the narrator on "Jane the Virgin," and Cuban-American actor Oscar Nuñez for his work in "The Crossroads of History" on the History Channel.
Neither took home an award.