Amber Tamblyn slams Rose McGowan's criticism of Meryl Streep: It's 'beneath' you to shame women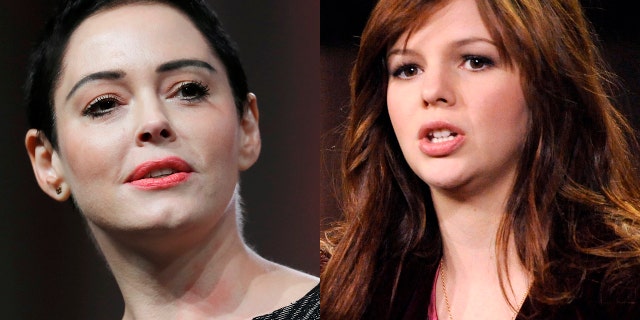 Amber Tamblyn slammed Rose McGowan on Sunday after the Harvey Weinstein accuser attacked actresses like Meryl Streep who will reportedly wear black at the upcoming Golden Globes as a way of protesting harassment in Hollywood.
The news comes in the wake of sexual misconduct accusations against fallen film producer Weinstein, who has denied all allegations of non-consensual sex.
"Rose McGowan is a friend and while I support her kind of movement, I do not support any woman (or man) shaming or taunting the movements of other women who are trying to create change," tweeted Tamblyn. "Telling us to all wear Marchesa? This is beneath you, Rose."
The 34-year-old actress added, "Our movement is big. And a black dress is just the beginning of the darkness that will be drained from every industry across the country by the time we're done. That's a promise."
Actress Asia Argento, who compiled a list of 82 women who claimed they were assaulted or raped by Weinstein, tweeted to Tamblyn, "I wish you'd had written this thread addressing it directly to @rosemcgowan, or even better, called or texted her, since you are friends."
Tamblyn responded, "Asia, I did. I spoke to her for over an hour."
McGowan criticized the fashion move as a weak form of protest, accusing the stars of staying silent while they still chose to work with Weinstein.
"Actresses, like Meryl Streep, who happily worked for The Pig Monster, are wearing black @GoldenGlobes in a silent protest," tweeted McGowan on Saturday. "YOUR SILENCE is THE problem. You'll accept a fake award breathlessly & affect no real change. I despise your hypocrisy. Maybe you should all wear Marchesa."
Weinstein's wife Georgina Chapman co-founded Marchesa in 2004. The fashion designer announced in October that she was leaving her husband.
The Golden Globes will take place on Jan. 7 in Los Angeles, Calif.