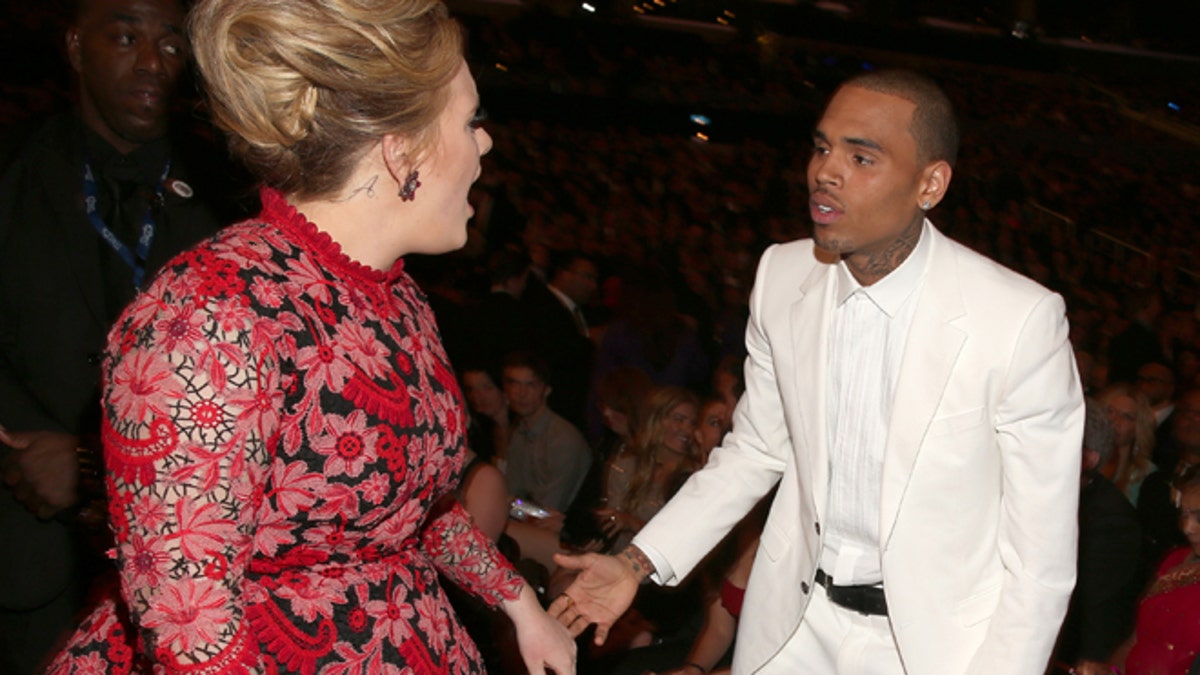 Has Chris Brown finally met his match?

At one point in the night, the star looked like he was on the receiving end of almighty tongue-lashing from Adele - just moments after he snubbed Frank Ocean by sitting through a standing ovation for his rival at last night's Grammys.

PHOTOS: Weird and wacky Grammys styles

Brown and Ocean have been bickering for weeks and came to blows last month after bumping into each other outside a Los Angeles recording studio.

When Ocean beat him to the Best Urban Contempary Album award, the whole audience rose to their feet to applaud him - except Brown, who stayed planted to his seat in a sulk.

And when the applause died down, Adele cornered him for a tense one-on-one.

Cameras didn't pick up Adele's choice of words - but judging by Brown's body language, it wasn't pretty.

The 23-year-old held his arms out as open-mouthed Adele let loose.
She might have been suggesting he keep a lower-profile at the event - which marks the fourth anniversary of his arrest for assaulting Rihanna after a pre-Grammys party in 2009.

Instead of keeping his head down, the star picked the biggest night of the music calendar to make his first public appearance with Rihanna since the pair rekindled their controversial romance.

The pair cuddled up on the front row at the event.

It was a better night for Adele - who won her NINTH Grammy for "Set Fire to the Rain."

Click here for more from The Sun.