Activist group to give Larry David $5,000 for calling Donald Trump racist on SNL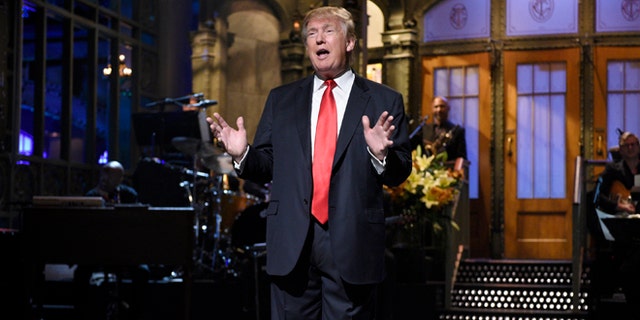 New York – Comedian Larry David just might get $5,000 richer after yelling "Trump is a racist" during the live broadcast of the Donald Trump-hosted "Saturday Night Live" episode this weekend.
DepartRacism.com, an activist group that helped lead a boycott of Saturday night's "SNL" episode and offered a $5,000 bounty to anyone who disrupted Trump's monologue by yelling "Trump is a racist!" or "Deport racism!," said that it intends to pay David because he did just that – even if it was part of a planned joke.
"#LarryDavid wins $5K 'bounty' from DeportRacism.com for calling Trump racist on #SNL. Joke or not, it's true," the group tweeted on Sunday after the broadcast.
On Monday, Luke Montgomery, campaign director for DeportRacism.com, told Fox News Latino that they will "absolutely" be sending David the money because he did exactly what they were hoping would happen.
"Larry David drew attention and highlighted a serious situation," he said. "Donald Trump is a racist who is attacking U.S.-born children using the word 'anchor babies' and wanting to strip them of their constitutional rights because their parents are Latino … It's disgusting and offensive."
Montgomery said they could not be happier that David was the one to heckle Trump because it showed that the producers at NBC were forced to address the issue.
"They were so worried that someone in the audience would be yelling out in the live broadcast, that they had to do it themselves," he added.
He said they are trying to get in touch with David to send him the money.
Fox News Latino reached out to the comedian's camp for comment.
Trump was wrapping up his opening monologue on Saturday night when an off-screen heckler interrupted with a cry of "You're a racist!"
David, who before Trump arrived onstage had been seen impersonating Democratic presidential hopeful Bernie Sanders, was the heckler.
"Larry, what are you doing?" Trump asked with a trace of exasperation.
"I heard if I yelled that, they'd give me $5,000," David said with a shrug, referring to the DeportRacism.com offer. "I had to do it."
"As a businessman," Trump replied, "I can fully respect that."
Montgomery, who has been criticized for leading the charge despite not being Hispanic, said he is motivated to fight Trump's offensive words because he has been on the receiving side of hate.
"I'm a gringo. I live in Mexico with my boyfriend. I'm a gay guy. I know that it's like to have people go after me. I know what it's like to be beat in the head and be left to die in the gutter," he said. "I think everyone should stand up against injustice … But when Donald Trump talks about Latinos, he is going after my family. He is going after people because their parents were born in another country. It's offensive and racist."
According to preliminary Nielsen ratings in 56 metered TV markets, Trump's appearance resulted in SNL's best ratings since Jan. 7, 2012.
In wake of the episode, several Latino organizations like the National Hispanic Foundation for the Arts (NHFA) and the National Hispanic Leadership Agenda (NHLA), plan to continue pressing NBC about the real estate mogul's appearance, and to hold a "Latino Media Summit" to discuss the fallout within the community.
"As a follow up to NBC's failure to rescind SNL's host invitation to Donald Trump, despite the offensive comments he has made to Mexican immigrants," Felix Sanchez, the chairman of the NHFA told FNL in an email. "We will invite NBC President Steve Burke and SNL's Lorne Michael to attend and discuss the issue with national Latino leaders and the members of the U.S. Congressional Hispanic Caucus."
Montgomery said with the SNL broadcast behind them, DeportRacism.com is now looking toward the GOP debate in December to prompt a similar protest.
Like us on Facebook
Follow us on Twitter & Instagram