AC/DC drummer Phil Rudd lives at full speed among retirees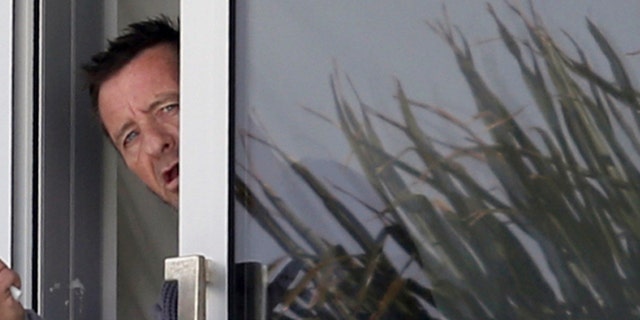 AC/DC drummer Phil Rudd was the toast of this quiet New Zealand coastal community when he celebrated the launch of his surprise solo album at his marina restaurant, Phil's Place. Even the mayor was there.
Less than three months later, posters promoting the album plaster the windows of his waterfront home, protecting his privacy, after police raided it earlier this month and filed serious charges against him. The fans who came to support him after the raid, singing AC/DC songs into the night, have left, and the 60-year-old has become a virtual prisoner in a town that for years had seemed to accept him and his excesses with a knowing wink.
He's avoided serious consequences from previous brushes with the law, but the stakes are higher this time: He's charged with threatening to kill, which comes with a maximum prison sentence of seven years, as well as possessing methamphetamine and marijuana. An even more serious charge that alleged Rudd tried to hire a man to kill two people was dropped due to lack of evidence.
There are also questions about Rudd's future with the Australian band he's been part of on-and-off for almost four decades.
AC/DC guitarist Angus Young said he hasn't been in touch with Rudd since his arrest and that his behavior had been erratic when they were recording their new album "Rock or Bust," which is due to be released on Dec. 2.
"He's got himself in a pickle," Young said, adding that the band's tour next year will go on with or without him.
Rudd has long tried to live out the male adolescent dreams that form the fabric of the straightforward rock songs of AC/DC.
But surprisingly he's done in it in a place that has long attracted retirees, drawn by the pleasant weather, the nearby beaches, and the quiet. Tauranga is home to just 115,000 people, although boosters like to point out more young people are coming and it will soon be this small nation's fifth-biggest city.
Rudd has described how he spent his first big paycheck on a Ferrari, before even buying a house. He's collected many more toys since then — a hangar at the town's airport to fit in his luxury sports cars and his helicopter, a motorboat moored near his restaurant.
Tabloids have detailed his fondness for hookers in a country where prostitution is legal. Gina Davies, Tauranga coordinator for the Prostitutes Collective, said her national office had asked her not to talk about Rudd.
Security guards remain posted at all times at Rudd's home, where they often relax in their cars with the seats reclined as elderly residents stroll past along the waterfront.
The person police claimed in documents was the would-be hit man works in an industrial neighborhood. Colleagues say he's disappeared and is laying low until the publicity blows over. He earlier told Fairfax Media that Rudd felt unsafe after disputes with hookers over payments.
Rudd's lawyer, Paul Mabey, said the murder-for-hire charge should never have been filed and the damage to his client had been incalculable. He said he was considering possible remedies.
That Rudd's lifestyle was taking a toll on him became apparent when he ventured out of his preferred seclusion in August to promote his solo album "Head Job." His fans were shocked. He seemed to have aged years, his face appearing hollow and sunken.
In interviews, he didn't bother wearing dentures and mumbled his way through answers.
"I'll give up smoking when I die, and I'll settle down when I die," he told television station TV3, as he attempted to keep the pink marshmallows in his hot chocolate out of the camera frame. "Until then, I'm gonna have a good time. All the way. All the way."
Rudd's home is modern and luxurious but not ostentatious.
Neighbor Malcolm Young, 70, who is no relation to AC/DC's co-founder with the same name, said Rudd laughed when he first introduced himself because of the coincidence of his name.
He said he sees the young women coming and going and hears Rudd's cars roaring past, but otherwise isn't much bothered by his famous neighbor. And he says Rudd, who has six children, has brought his cars to charity events over the years to help raise money.
"We knew he was the drummer, but it didn't make a difference," said Tauranga Mayor Stuart Crosby. "He was just another father with his sons."
There were times when Rudd's lifestyle would catch up with him.
In 1988, an English judge ordered Rudd to pay model Lorraine Irish about $26,000 after Rudd, during a barbecue party in Sydney, took the model for a spin on a speedboat and crashed into a moored yacht, catapulting her out of the boat. She told the judge the resulting scar on her leg made it impossible for her to keep modeling swimwear, lingerie and stockings.
In 2010, Rudd was caught with 25 grams (1 ounce) of pot on his boat in Tauranga but convinced a judge to cancel the conviction after arguing it would prevent him from touring with the band, affectionately known Down Under as "Acca Dacca."
In 2012, he threw a tantrum at his restaurant after workers delivered an antipasto platter to his hangar instead of his boat. He stormed in, kicking doors and trash bins, cursing at his staff, and fired three of them on the spot. A security guard took away the meals from remaining diners. The Employment Relations Authority ordered Rudd to pay the unfairly fired workers about $57,000.
And this year he was accused of lying after he tried to renew his pilot's license and said on a form he had no history of drug use. A judge said he was very suspicious of Rudd's answers, but that wasn't proof enough to convict him.
Those who've met Rudd say he's always been low-key, which is perhaps why Tauranga suited him. Born in Australia, Rudd has lived in the region since 1983, when he had a blow-out fight with guitarist Malcolm Young and left the band. He rejoined again 11 years later.
"He was a very quiet person," said Tony Currenti, AC/DC's drummer before Rudd. "He did his talking through his drumming."
But AC/DC was also a band with big ambitions, according to another former band drummer, Noel Taylor.
"It was mainly Malcolm who would say, 'Forget Australia. We are going to be a worldwide band,'" Taylor said.
And Rudd enjoyed the ride.
"We nailed it. No one's ever done what AC/DC did out of anywhere, really," he told the website Noise11 when promoting his solo album. "Conquered the world, mate, that was the idea from the start. A little Napoleon in all of us."
There were signs things weren't right with Rudd and the band even before his arrest. Jesse Fink, who wrote the book "The Youngs: The Brothers Who Built AC/DC," said he was "gobsmacked" Rudd had done a solo album given the total commitment demanded by AC/DC and the fact no other band member had tried one before.
Fink said he was even more shocked by Rudd's appearance.
"To anyone who has followed the band, it seemed like he had aged 20 years in the last three years," he said. "The fans I spoke to said, 'Oh my god, I can't believe that's Phil.'"
Rudd, meanwhile, is due to appear again in court Nov. 27. He will again face the glare of publicity he has long sought to avoid in the quiet town he's made home.