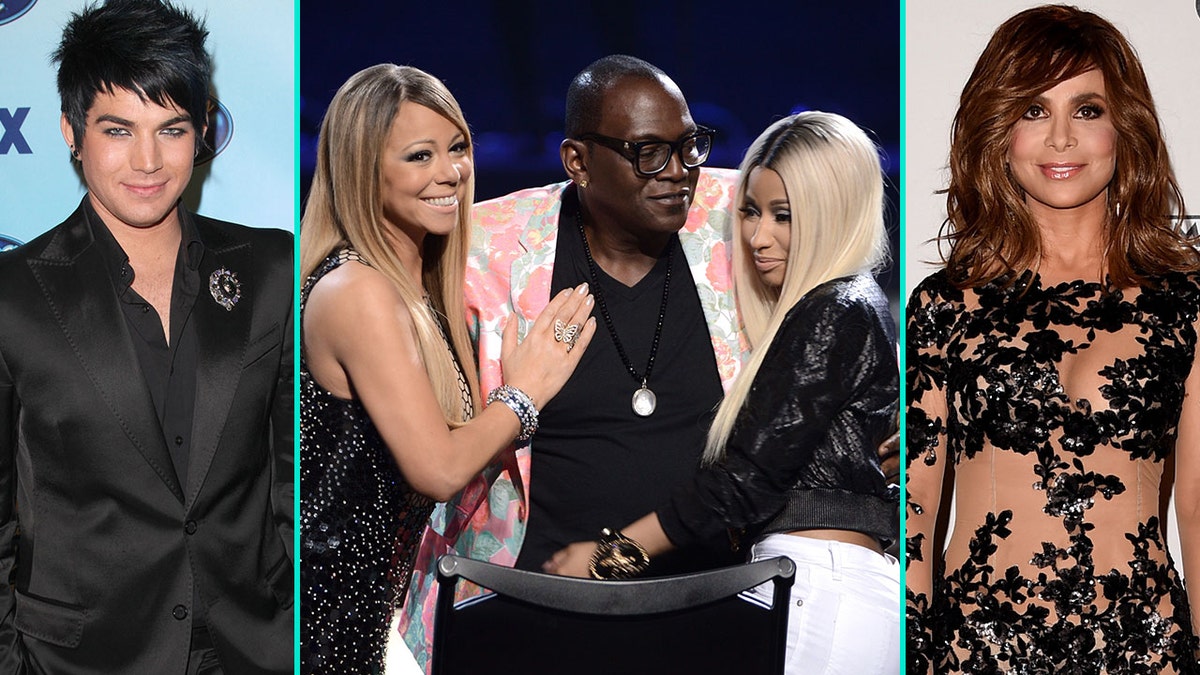 With "American Idol" coming to an end, fans are getting to relive all the fun and glory of the last 15 seasons during the show's grand finale with some of "Idol's" biggest and best highlights. However, it's unlikely any of these less-than-stellar moments will get a mention.
Let's take a different kind of walk down memory lane with a look back at seven of Idol's most infamous scandals.
WATCH: 'American Idol' Finale: 15 Big Reveals From the Series Retrospective
1. Frenchie's Racy Disqualification

Photo: Getty Images
Season two fan favorite Frenchie Davis was disqualified early in Idol's second season after she admitted to taking topless photos early in her career. Four years later, in season six, fans were up in arms over an apparent double standard when contestant Antonella Barba was allowed to remain in the competition when revealing, personal photographs surfaced online. Though producers allowed Barba to continue performing, she was ultimately voted off the show by fans.
Frenchie found her way back to the small screen on the first season of "The Voice," where she competed on Team Christina Aguilera.
2. The Paula Effect

Photo: Getty Images
Two years after he was disqualified from Idol for failing to disclose previous legal troubles, season two contestant Corey Clark claimed to have engaged in a romantic relationship with judge Paula Abdul during his time on the show. Clark appeared on a televised "Primetime Live" special on ABC, alleging that the former pop star took him under her wing by offering professional guidance and, later, the pair engaged in a three-month-long sexual relationship.
Abdul and Idol producers dismissed the claims as lies and speculated that Clark was attempting to drum up publicity for his album. Fox appointed an independent counsel to conduct an internal investigation, which found that Clark's claims regarding a sexual relationship with Abdul were not supported by "any corroborating evidence or witnesses." Abdul did, however, admit to having telephone conversations with Clark while he was a contestant.
WATCH: Paula Abdul and Randy Jackson Spill on Returning For 'American Idol's' Farewell Season
3. 'Dubious Connections' and a Former Deal

Photo: Getty Images
Season eight contender Joanna Pacitti made it all the way to the Top 36 during Hollywood week before she was deemed "ineligible to compete." Speculation had already been swirling regarding whether the singer's previous record deal and moderate success in the music industry should deem her ineligible, though a Billboard report also cited alleged "dubious connections" between Pacitti and staffers at Idol's production company, 19 Entertainment.
4. Ongoing Conspiracy Theories

Photo: Getty Images
Voting controversies have been an all-too-familiar thorn in Idol's side over the years, stemming all the way back to season two's Clay Aiken/Ruben Studdard match-up (spurred by a rare on-air flub from Ryan Seacrest, in which he offered three differing figures on the voting gap between the ultimate winner and runner-up).
The following season, fans attempting to vote in the competition between Fantasia Barrino and Diana DeGarmo complained of overloaded phone systems that made it impossible to vote. And in 2009, when Kris Allen upset Adam Lambert for the season nine crown, reports surfaced regarding "Idol" viewing parties in Allen's home state of Arkansas, in which AT&T employees reportedly taught fans how to "power vote" for their hometown hero. The buzzed-about controversy even earned a Jimmy Fallon-coined nickname: "TextGate."
5. An 'Idol' Alum and a Married Star

Photo: Getty Images
Season 11 alumna Brittany Kerr made headlines not for her voice, but for being photographed in a lip-lock with then-married country star Jason Aldean. Kerr later called the moment "a lapse in judgement," while Aldean blamed it on the alcohol.
"The truth is that I screwed up. I had too much to drink, let the party get out of hand and acted inappropriately at a bar," he said in a statement to TMZ. "I ultimately ended up embarrassing my family and myself. ... I left alone and that's the end of the story."
Well, not quite. Aldean and his high school sweetheart-turned-first wife ended up divorcing, while Aldean and Kerr tied the knot on March 21, 2015. The whole saga unfolded well after Kerr's time on the Idol stage, but she has been recognized as a former American Idol contestant in all media coverage of the scandal.
WATCH: Mariah Carey Slams 'American Idol': 'Worst Experience of My Life'
6. The Big Diva Face-Off

Photo: Getty Images
New judges Mariah Carey and Nicki Minaj brought fireworks to Idol's 12th season -- but not exactly in a good way. Leaked footage found its way to TMZ, showing the Idol judges at each other's throats during auditions in Charlotte, North Carolina, with Minaj yelling at Carey: "I'm not going to put up with her f--king highness anymore."
Reporting on "The View," Barbara Walters said that Carey had told her via telephone that Minaj had also said, "If I had a gun, I would shoot [her]." Minaj has called the claim a "fabrication."
Later, in an on-camera interview with Walters, Carey said, "It felt like an unsafe work environment. Anytime anybody's reeling threats at somebody, it's just not appropriate. Sitting there on the road with two babies, I'm not going to take any chances. So, yeah, I did hire more security."
The duo continued to add fuel to the fire over the course of the season, with Minaj lashing out frequently on Twitter. In one particularly memorable rant, she referred to Carey as "insecure and bitter."
WATCH: From Jennifer Hudson to Adam Lambert: 'American Idol's Most Star-Powered Losers
7. Things Get Litigious

Photo: Getty Images
"Idol" drama turned litigious when season 11 winner Phillip Phillips filed a lawsuit against "Idol's" co-producers, 19 Entertainment, in an effort to escape an "oppressive" contract.
In court documents filed on Jan. 22, 2015, and obtained by ET, Phillips claimed that the producers had "manipulated" him into accepting jobs and entering into other transactions that were actually for the benefit of 19 Entertainment and its affiliates. The singer's multiple complaints included being forced to perform in a live show promoting "Idol" sponsor Jet Blue for free, amongst other similarly questionable gigs, with the production company getting as much as a 40 percent cut of his endorsement deals, and information on important career matters being withheld from him. For example, Phillips claimed that the title of his album, "Behind the Light," was decided without his approval and then announced in the press without him being given any advance notice.
Phillips said he "remains grateful [to 'American Idol'] for the opportunities provided to him to demonstrate to the world and capitalize upon his talent, creativity and diligence." However, "the appreciation does not extend to the oppressive, fatally conflicted 19 Entertainment, Inc."