10 Things You Didn't Know About the Miss America Pageant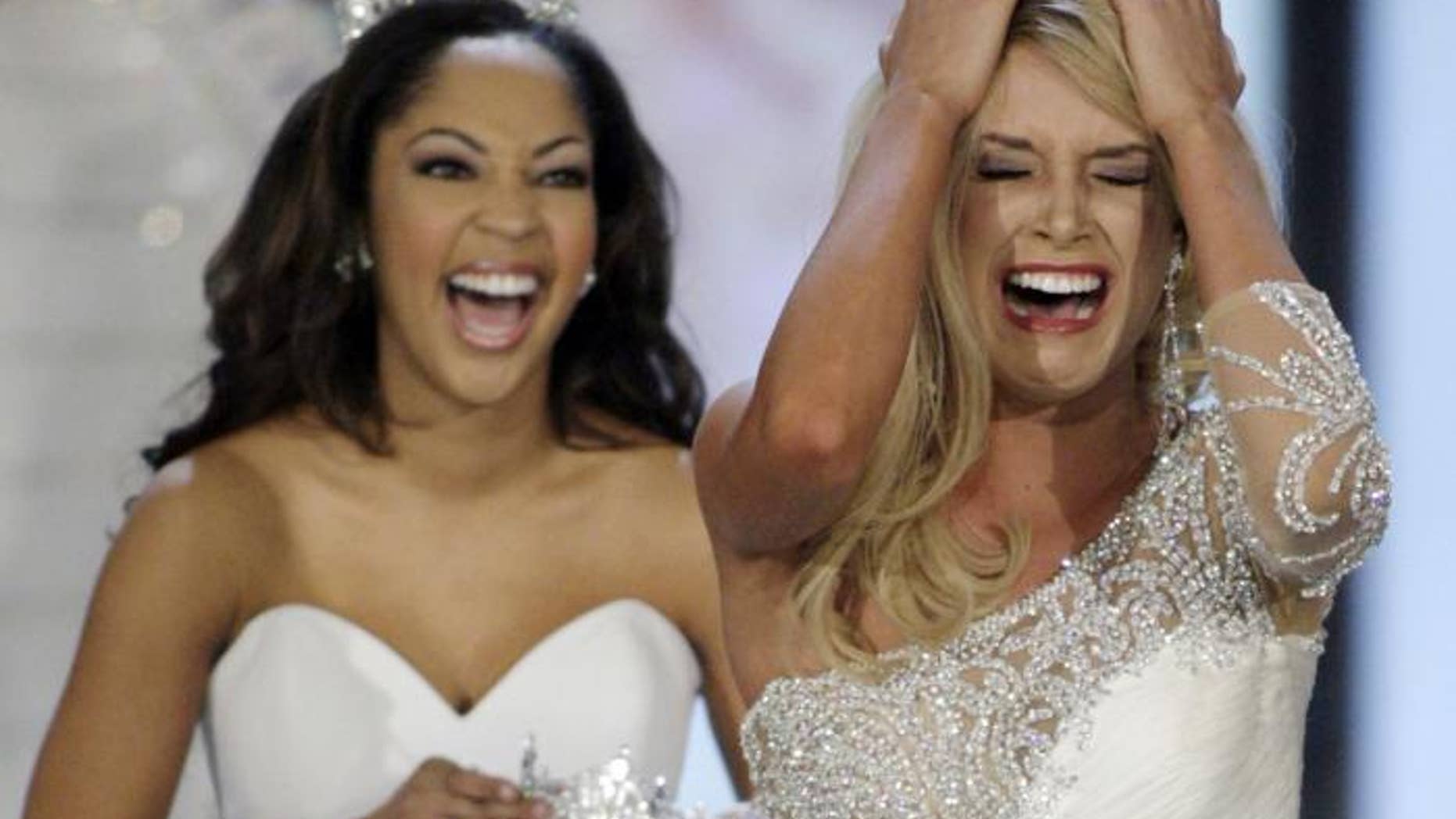 The preliminary rounds for this year's Miss America pageant are already under way in Atlantic City, with the final night of competition airing on ABC this Sunday at 9 p.m. ET.
But before you settle down for an extravaganza of swimsuits, singing and sashaying, why not take a few minutes to learn a bit more about one of America's favorite national pastimes? After all, there's a whole lot more to Miss America than meets the eye (besides her hidden talent for playing the marimba).
Here's a few of the most interesting stories, scandals and secrets surrounding the Miss America pageant.
* * * * *
#1. The Miss America pageant started as a ploy to keep tourists on the Atlantic City boardwalk after Labor Day. In 1920, a group of local businessmen organized an event called the Fall Frolic, which happened to feature a rolling chair parade of young ladies. At the following year's Fall Frolic, the parade was reworked as the Inter-City Beauty contest, and entrants were chosen through newspaper-sponsored photo contests. Sixteen-year-old Margaret Gorman won the title of "The Most Beautiful Bathing Girl in America" and took home the Golden Mermaid trophy. She returned to defend her title in 1922, where she was informally dubbed "Miss America."
#2. After Yolande Betbeze won the title of Miss America for 1951, she flat-out refused to wear or promote Catalina swimwear, one of the pageant's sponsors. (Betbeze told the company she was a singer, "not a pin-up.") Because of this, Catalina cut ties with Miss America and created their own beauty competition in 1952: the Miss USA pageant.
#3. To compete for the Miss America crown, a contestant can't be married — but she can certainly be divorced. A rule change in 1999, which was applied to the 2000 pageant and onward, states that the contestants only need to swear that they're unmarried, not pregnant, and not the adoptive or biological parent of a child (rather than the previous rule that required a Miss America contestant to swear that she had never been married or pregnant).
#4. California, Oklahoma and Ohio boast the most Miss America wins with six each. Nineteen states and two U.S. territories share the distinction of earning zero Miss America titles.
#5. In 2012, the widow of the songwriter who penned the familiar Miss America tune ("There she is, Miss America … ") filed a lawsuit against the pageant. Phyllis Wayne felt that the song — written by her late husband Bernie Wayne — had been improperly licensed at the 2011 and 2012 ceremonies. A confidential settlement was reached in late 2012, but the song wasn't heard at the 2013 pageant, and it won't be heard at the 2014 pageant, either.
#6. Historically, there has always been a set of qualifying criteria that must be met in order to enter the Miss America pageant, but none was as controversial as rule #7. This rule, which was in place until 1940, stated that "contestants must be of good health and of the white race." To satisfy this requirement, Miss America hopefuls were required to trace their ancestry back through as many generations as they could.
#7. The first and only Jewish Miss America, Bess Myerson, was crowned in 1945. She was pressured to change her name to "Beth Merrick" for the pageant, but the Bronx native told her pageant director that she wouldn't do it. "I said … the problem is that I'm Jewish, yes? And with that kind of name it'll be quite obvious to everyone else that I'm Jewish. And you don't want to have to deal with a Jewish Miss America," Myerson recounted. "And that really was the bottom line. I said I can't change my name. You have to understand. I cannot change my name. I live in a building with two hundred and fifty Jewish families. The Sholom Aleichem apartment houses. If I should win, I want everybody to know that I'm the daughter of Louie and Bella Myerson."
#8. Television and radio announcer Bert Parks has hosted more Miss America pageants than anyone else, having emceed the event every year between 1955 and 1979. When he was fired at the age of 65 (organizers were trying to revamp the show for a younger audience), Johnny Carson staged a "We Want Bert" campaign to get him reinstated. It didn't work, but Parks was eventually invited back to appear as a guest for the pageant's 70th anniversary in 1990.
#9. Prior to becoming an Oscar- and Golden Globe-winning actress, Cloris Leachman competed in the 1946 Miss America pageant as Miss Chicago. (In the pageant's earlier years, delegates representing larger metropolitan areas such as New York City and Chicago were allowed to enter alongside delegates from New York State and Illinois. After complaints, the pageant did away with these positions — as well as the position of Miss Washington D.C., albeit temporarily.)
#10. The morning after winning the title of Miss America at the 1937 pageant, Bette Cooper decided she didn't want to commit to the role and ran off with a man (by motorboat, some say). She opted to return to school instead of fulfilling her Miss America duties, and no other contestant was awarded the title in her stead.