Why the SRT Viper is a coupe, not convertible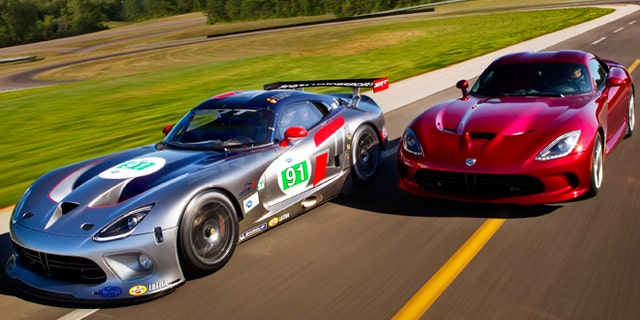 The SRT Viper was the undisputed champ of the New York Auto Show this year. The resurrected Detroit-built supercar packing a 640 hp V10 under its sexy, double-bubble coupe body.
But what happened to the convertible?
When the original Dodge Viper debuted back in 1992 it was an open-top roadster. It didn't even have roll-up windows. In fact, it was four years before the first hardtop version of the car would be introduced.
The cycle continued when the car was redesigned for 2003 with a proper convertible top, the new street legal coupe following several years later, in 1996.
This time around the coupe came first, without even a mention of a convertible version.
But why?
A Chrysler spokesperson tells FoxNews.com the reason was racing. SRT was anxious to get the Viper back on track, literally, and "designing the coupe version first allowed us to get there the quickest."
Along with the production Viper, a racing version set to compete in the American Le Mans Series was also unveiled in New York and will be taking on its arch rival, the Chevrolet Corvette, later this year. It is also popular as a track day car and has its own one-make racing series, the SRT Viper Cup Series.
As for that convertible, since the new Viper is an evolution of the old one, you can be sure one is on the way. When we'll see it is a mystery, but the weather sure is nice at the Los Angeles Auto Show in November.
Read: Will the SRT Viper get a V8?