Well-dressed motorist leads police on chase through San Diego County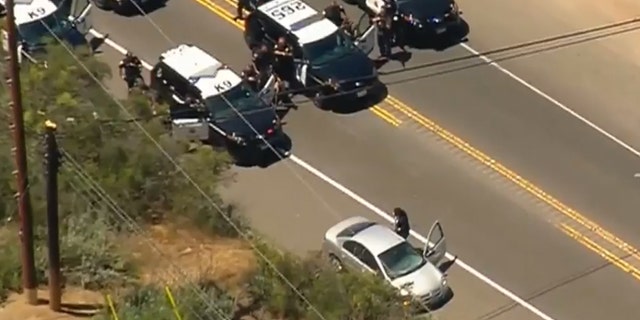 NEWYou can now listen to Fox News articles!
Police chased a silver car from National City and ended in Ramona Wednesday afternoon, Fox 5 San Diego reports.
A fleeing motorist led National City police from South Bay , through San Diego and came to a stop on state Route 67, east of Poway, according to San Diego police. The driver, who was dressed in a business suit, exited the car and was taken into custody.
Caltrans temporarily closed both north and southbound lanes on SR-67 at Kay Dee Lane to allow officers to investigate. By 1:30 p.m., traffic was seen moving in the area.
Authorities started chasing the motorist in National City around 1 p.m.
What prompted authorities to chase the driver was not released by police, but several sources told FOX 5 it was due to a possible armed robbery.